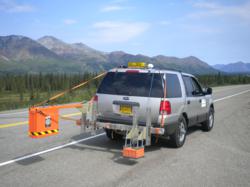 Arlington, MA (PRWEB) November 06, 2012
A week has passed since Hurricane Sandy, the largest Atlantic tropical system on record, brought strong winds and dangerous flooding to the East Coast from the mid-Atlantic states to New England. Sandy left in its wake a myriad of infrastructure problems, including flooded roadways and submerged tunnels. State and local Departments of Transportation are beginning to alleviate many of the disruptive effects of Sandy, with FEMA footing some or all of the bill thanks to its disaster-relief fund. Once the waters recede, however, many roadways will remain at risk due to subsurface damage, despite showing no signs on the surface. In order to evaluate these unseen conditions, Infrasense is now providing a ground penetrating radar-based service to detect roadway conditions that might put pavements at risk.
During the heavy rains of Sandy, paved roads were inundated with water. When the water recedes, supporting soils can be washed out forming voids, beneath the road and removing crucial structural support for the pavement. A return to normal traffic loading can mean a potential collapse of pavements with undermined subsurface support, even though there is no obvious sign of risk at the surface.
Infrasense, Inc., now provides a solution for detecting these unseen "at-risk" conditions. Using nondestructive evaluation techniques such as ground penetrating radar (GPR), Infrasense engineers can detect any inhomogeneities in the pavement base course that indicate areas of road at risk of damage. Locating these at-risk areas allows for a more accurate assessment of hurricane-related damage, and will provide data for more realistic cost estimate for repairs and rehabilitation. GPR surveys are conducted using vehicle-based antenna systems that are operated at driving speeds, eliminating lane closures and traffic backups. These vehicle-based surveys allow for a more rapid and economical investigation of a pavement network to quickly determine areas in need of repair.
Infrasense engineers have experience investigating damage inflicted on pavements from floodwaters. After Hurricane Katrina struck New Orleans, leaving the city submerged for weeks, Infrasense worked with the Louisiana Department of Transportation and Development (DOTD) to obtain additional federal funds by helping to document subsurface damage. Using GPR to collect pavement thickness, moisture, and material data, and combining this data with structure assessments from Falling Weight Deflectometer (FWD) testing, the Infrasense team was able to provide the Federal Highway Administration with proof that flooding from the hurricane had damaged subsurface pavements. The loss of strength for submerged asphalt and concrete pavements was determined by comparing the collected data to pavement data collected in non-submerged areas.
About Infrasense, Inc.
Since 1987, Infrasense, Inc. has applied advanced detection technologies to the most difficult challenges in subsurface scanning. Using advanced tools and processing techniques, Infrasense engineers are able to nondestructively scan large areas quickly, and to extract critical subsurface information from a diverse range of structures. The firm has conducted research to advance the field of subsurface detection, while also continuing to provide valuable information to clients across the country. For more information visit http://www.infrasense.com.