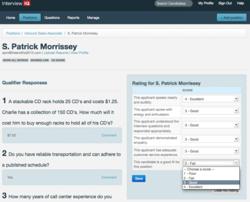 This release is the latest in a continuing series of market-leading innovations from HireIQ. We have a robust and innovative product plan mapped out for the coming months that will deliver even more revolutionary capabilities.
ATLANTA, GA (PRWEB) November 08, 2012
HireIQ Solutions, Inc., the visionary predictive analytics and talent acquisition solution company that improves the hiring and recruiting process for customer-facing organizations, announced today that the latest version of its leading virtual interviewing application is now available. Enhancements to InterviewIQ further improve the effectiveness and efficiency of recruiting organizations worldwide. HireIQ's products are deployed in the Software-as-a-Service (SaaS) model, which means that all customers have immediate access to the new capabilities.
HireIQ's applications are well suited for customer service operations including contact centers, retailers, hospitality, and travel and leisure providers, who are often under constant pressure to quickly staff their operations with well-qualified employees. The new release of InterviewIQ further provides recruiting and talent acquisition professionals with the tools to more quickly identify best-fit candidates for open positions. As a result, recruiters provide better service to their stakeholders by hiring better performing candidates in less time, at a lower cost of recruitment.
HireIQ's applications use media-rich web and voice response technologies to lead an applicant through a virtual interview that is configured to each customer's unique requirements. These interviews are typically designed to test the applicant's customer service aptitude, critical thinking, math skills, grammar proficiency, and communication skills. Because HireIQ products are web-based, applicants can complete their interviews when it is convenient for them, often outside of recruiters' normal working hours.
HireIQ actively solicited input from its customers, leading industry sources, and its valued partners, ensuring the new release would satisfy unmet needs in the market. Key features in InterviewIQ include:
Live Interview Recording and Scoring. A live, synchronous interview between a recruiter and a candidate can be conducted, recorded and scored, adding a new dimension to the product's previously available unproctored interview recording.
Dependability Survey Instrument. HireIQ has partnered with SHL, the global leader in talent measurement, to offer this validated assessment. The Dependability Survey Instrument (DSI) helps to identify applicants who are more likely to be dependable, have good attendance records and be an effective, positive team member.
Enhanced Interview Scoring. Companies can now enjoy much greater flexibility when creating interview scoring forms. The scoring form attributes and scoring labels are now completely customizable, as well as the scoring form values. Each interview position can also have its own customized scoring form.
Reports and visualizations. System data can now be exported to create helpful performance and return-on-investment reports such as recruiter productivity, recruiter time-to-review, candidate time-to-complete, and candidate time-to decision.
"Our virtual interviewing and talent acquisition solutions are customer proven to increase the efficiency and effectiveness of the recruiting team, shorten the time-to-hire cycle, and improve the operational performance of our clients' employees," said Kevin Hegebarth, vice president of Marketing and Product Management at HireIQ. "This release is the latest in a continuing series of market-leading innovations from HireIQ that demonstrate our ongoing commitment to our customers and the hiring market as a whole. We have a robust and innovative product plan mapped out for the coming months that will deliver even more revolutionary capabilities."
For a complete listing of HireIQ news, please visit http://www.hireiqinc.com/resources/press.
ABOUT HIREIQ SOLUTIONS, INC.
HireIQ's talent acquisition and hiring optimization products help companies quickly and efficiently find the talent who possess the communication skills necessary to be successful. HireIQ's products use rich media, web and voice response technologies to automate the early stage interviewing process, resulting in better-qualified candidates presented for hiring consideration more quickly than traditional recruiter-led screening and interviewing. Recruiters and other stakeholders can evaluate an applicant's knowledge, interpersonal style, enthusiasm, energy and attitude. Employees hired using HireIQ's suite of talent performance optimization products demonstrate increased speed to competency, reduced attrition and improved sales and service performance. HireIQ is a privately held company based in Atlanta, GA. For further information, please visit http://www.hireiqinc.com. Follow HireIQ on Twitter at http://www.twitter.com/hireiqinc.
© 2012 HireIQ Inc. All rights reserved. All materials provided, regardless of form, are the exclusive property of HireIQ. HireIQ's products may be covered by one or more United States, European or other international patents or applications. All trademarks are the property of their respective owners.