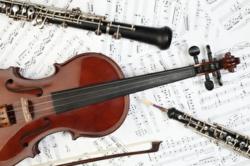 Digital Print Publishing is another way Sheet Music Plus is expanding beyond being just a place to buy sheet music to fulfilling a wide variety of needs for the musician.
Emeryville, CA (PRWEB) November 12, 2012
Currently, less than 1% of all recorded music is available as sheet music. The new Digital Print Publishing platform from Sheet Music Plus aims to radically change the face of sheet music publishing. Through Digital Print Publishing, composers can now publish their original compositions and arrangements and offer them for sale on Sheet Music Plus reaching millions of musicians worldwide.
Historically, music could only be transcribed into sheet music and offered for sale at great expense to the publisher, due to the high cost of engraving and the extensive print runs necessary to make a profit. Now with Digital Print Publishing individuals can publish and sell sheet music digitally, just by uploading a PDF of printed or even hand-written music. Digital Print Publishing participants earn royalties of 45% of the list price of their sheet music. Sign up for Digital Print Publishing is free, and it's simple - all that is needed is a PDF of the music and verification of publishing rights.
Digital Print Publishing enables a wide variety of new music to be published including offerings from exciting, new composers, fresh arrangements of popular pieces for unusual instruments and ensembles, and previously commissioned but unpublished works for individuals and orchestras.
"Although the program has only been available in a beta version for a month, we are already seeing great success" says Ahroon Yoch, VP of Marketing and Merchandising. Some of the exciting pieces submitted so far include:

"No Nothing" by Curtis & Reinhard. "No Nothing" was featured on Fox's "So You Think You Can Dance". Millions heard the piece on television. Now, fans are able to instantly download it and play it without having to wait for the lengthy lag between a pop music release and the sheet music publication.
"Ave Maria" arranged by John Ross. John Ross's many arrangements of classical pieces for underserved instruments and ensembles have appealed to many eager buyers.
Various Christmas medleys for string ensembles by Matthew Naughtin. Matthew is a composer, arranger and the Music Librarian of the San Francisco Ballet. He has written numerous popular arrangements for string quartet and quintet that are now readily available to customers worldwide.
"We anticipate Digital Print Publishing offerings growing by leaps and bounds in the coming months," said Jenny Silva, CEO of Sheet Music Plus. "We have been working hard for years to build our catalog of printed and digital sheet music and with over 800,000 titles we currently offer the world's largest selection. However, even with such a large selection, our most common request from customers is to expand our selection even further. What better way to offer more titles than to go directly to the musicians and composers themselves."
"In addition, we see this program as a great way to support the musician community," states Silva. "Digital Print Publishing is another way Sheet Music Plus is expanding beyond being just a place to buy sheet music to fulfilling a wide variety of needs for the musician. We want Sheet Music Plus to become an integral part of every musician's life in a way that truly enriches the music community. "
Musicians are constantly seeking fresh new music and interesting arrangements. "Musicians all over the world create their own transcriptions to play every day. Now, these transcriptions can be made available worldwide for sale," said Silva.
ABOUT SHEET MUSIC PLUS
Sheet Music Plus is located in the San Francisco Bay Area, and delivers music worldwide. Sheet Music Plus began in 1997 with the purpose of offering musicians a full spectrum of sheet music, with fast delivery and trained musicians offering customer service. Today, Sheet Music Plus is the home of the world's largest sheet music selection and a source for music books, music sheets, songbooks, music scores, choral sheet music and more. From piano sheet music to flute sheet music, choral sheet music and octavos to guitar tabs, Christian sheet music to Jazz sheet music, and beyond, there are more than 800,000 titles to choose from including music from more than 1,000 publishers, and all major European publishers. Digital Print sheet music from SheetMusicPlus.com can be viewed online in any location with internet access with a flash-enabled computer or device. For easy access and added convenience, iPad users can view purchased titles with the Sheet Music Plus Digital View App for the iPad.