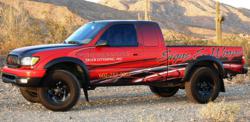 "Customers know the strict standards 3M holds installation companies to and with 1st Impressions Truck Lettering being certified we expect to see our business continue to grow."
Phoenix, AZ (PRWEB) November 08, 2012
Phoenix vehicle wrap company 1st Impressions has seen business boom since becoming a 3M Certified Installation Facility
"We're ecstatic about our latest installation numbers," said 1st Impressions CEO, Dan Deary. "Our business jumped dramatically, 47%, in the second quarter of 2012. We attribute the boost to becoming 3M Certified and being able to publicize that fact. Customers know the strict standards 3M holds installation companies to and with 1st Impressions Truck Lettering being certified we expect to see our business continue to grow."
About Truck Lettering and Vehicle Wraps
Vinyl adhesives with high resolution digital graphics printed on them, vehicle wraps are over-sized stickers covering the exterior of the vehicle. If performed correctly the process leaves the exterior unharmed, and provides an extra layer of protection for the cars paint. If performed incorrectly or a low quality material is used, a vehicle wrap can not only look unattractive but can also harm the vehicle's paint. The 3M certification guaranties that a quality product will be installed by an expert technician.
3M, based out of Maplewood, Minnesota, is the premier manufacturer and supplier to the vinyl lettering and vehicle wrap industry. They are the leading innovators in multiple fields from; abrasive and adhesive development to electronic circuit and optical film manufacturing. With 3M's reputation on the line, they're taking a select few vehicle graphic design and installation teams and testing them on all aspects of the 3M material, design and installation processes to become certified.
The 3M certification covers business practices as well as installation skills and knowledge. The testing not only included vehicle wraps, but also corrugated trailer sides and floor graphics, as well as several other vinyl application areas which even included brick wall applications, an example of which can be seen in their work on 1st Impressions website at, http://www.1stimpressions.com.
"People really take notice of a shop that's 3M certified," Deary said. "The certification sets us apart from our competition. Customers looking for vehicle wraps in Phoenix just feel more comfortable with a 3M certified installation facility.
A quote from 3M states, "It takes four components to make a graphic message stand out: a great design, the right graphics materials, a skilled graphics manufacturer and an expert graphics installer. One without the other can reflect badly on the whole job, not to mention the brand being promoted."
With the number of cars & trucks on the road with low quality wraps increasing, it's nice to see a company like 1st Impressions Truck Lettering taking steps to insure the quality of their work to their customers.
About 1st Impressions
Founded in 1994, 1st Impressions Truck Lettering provides car wraps, truck wraps and nearly any vehicle wrap possible including vans, buses, even tractor trailer with a very high focus on detail and quality workmanship. 1st Impressions is the only USAG and 3M Certified Vehicle Wrap Company in Phoenix and one of a limited number in the entire state. They are an A+ rate BBB company. 1st Impressions Truck Lettering offers free pickup and delivery service, onsite installation, expedited fleet service, a convenient location and a team of experts dedicated to service needs.
1st Impressions Truck Lettering
345 North 15th Avenue
Phoenix, AZ 85007
Phone: (602) 253-3332
Fax: (602) 253-4860
Email: info(at)1stImpressions(dot)com
Website: http://www.1stimpressions.com
Facebook: http://www.facebook.com/1stImpressionsTruckLettering
Hours of Operation
Monday – Friday: 8:00 AM – 5:00 PM