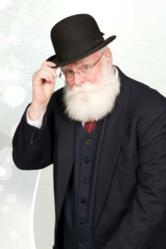 When you want to believe that wishes can come true and miracles still happen...
Modesto, CA (PRWEB) November 08, 2012
One of the top movies of 1947, "Miracle on 34th Street" would go on to become a beloved holiday film for generations to follow as a staple on television. Starring Maureen O'Hara, John Payne, an 8-year old Natalie Wood and Edmund Gwenn in an unforgettable Oscar-winning performance as Kris Kringle, the film was about the magic of believing that wishes can come true and miracles still happen.
Now this heartwarming story about a nice old man who claims to be Santa Claus has been brilliantly brought to life in a fully-staged Broadway musical. The lavish production features an imaginative set, stylish costumes of the period, lively choreography, and a score with the music of Meredith ("The Music Man") Willson: "It's Beginning To Look A lot Like Christmas," "May the Good Lord Bless & Keep You," and more.
"Miracle on 34th Street-The Musical" will be presented at the Gallo Center of the Arts in five performances Friday, November 23 through Sunday, November 25. Tickets are on sale now and range from $19 to $89. Purchases can be made in person at the Gallo Center Ticket Office, online at GalloArts.org, or by phone at (209) 338-2100. Groups of 15 or more are eligible for a 15% discount.
This event is sponsored by Alfred Matthews, Oak Valley Community Bank and Twigs & Stems. The Gallo Center for the Arts' 2012/2013 Premier Partner is Boyett Petroleum.