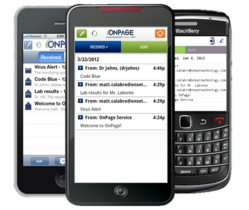 (PRWEB) November 07, 2012
Onset Technology, the creator of OnPage Secured Priority Messaging announced today that a leading SaaS company implemented OnPage within their IT department. The company will use the OnPage application to support immediate communication with fast-driven results in order to cut downtime and eliminate time consuming redundancies.
As a SaaS (Software as a Service) company, the security and reliability of their CRITICAL messages is extremely vital. After they carefully reviewed several products that did not fit their needs, they chose OnPage as their priority communication's solution. With unrivaled features and capabilities such as a persistent alert and repeated delivery, the decision to choose OnPage was an easy one.
OnPage was able to provide them with the ability to use a smartphone application for device-to-device communication as well as email-to-device and phone-to-device communications, which proved to be extremely flexible and convenient to the branch's busy IT staff.
The app also enabled their IT administrators to skip a calling procedure they had in place to ensure messages got received and read. With OnPage, their team received time stamped audit trails of all sent, delivered, read, received and replied to messages. OnPage helped them not only cut out their calling redundancy, but allowed them for a faster communications process that resulted in less downtime.
ABOUT ONSET TECHNOLOGY
Onset Technology is a leading vendor of mobile messaging solutions to organizations with emergency communications requirements. The company's OnPage mobile app turns iOS, BlackBerry, and Android smartphones into secure digital pagers, supported by an enterprise-grade messaging and paging platform. Onset Technology's OnPage is now used by over 1,000 organizations, including those in healthcare, emergency services, information technology, financial institutions, the legal profession, and government agencies. For more information about OnPage, visit http://onpage.com/ . For other products by Onset Technology visit http://onsettechnology.com/