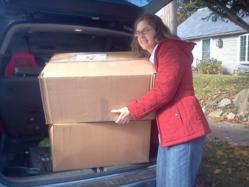 "We wanted to do something to make life a little easier and more comforting for the moms and dads who were leaving the hospital for unheated or dark homes."
- Alizah Holstein, Kowalli Founder
Providence, RI (PRWEB) November 06, 2012
In response to the devastation wrought by Hurricane Sandy last week, a Providence, RI-based baby gear company has sought to aid parents of babies born during the historical storm. Kowalli LLC (http://www.kowalli.com), which specializes in high-quality fleece outerwear for parents and babies, donated over $1,000 worth of cozy baby covers to Columbia University Medical Center's Neonatology Division in an effort to directly reach new parents who might be facing a return to homes lacking heat and/or electricity.
The donated items are Kowalli Baby Carrier Covers, a fleece vest designed to cover a parent and child together, such as when the baby is carried in a baby carrier, sling, or wrap. The Kowalli can also be used as a two-person blanket, making them useful even indoors for mothers of newborns.
Kowalli Founder Alizah Holstein was moved to send the donation after seeing a news clip of newborn babies being evacuated from a downtown Manhattan hospital. "The first weeks of a newborn's life can be so trying for new parents, even under the best conditions," Holstein explained. "We wanted to do something to make life a little easier and more comforting for the moms and dads who were leaving the hospital for unheated or dark homes."
After considering donating her products to collection centers, Holstein instead chose Columbia University Medical Center's Neonatal Division, hoping that the products would reach their targets sooner. "It seemed the most efficient way to do it," she added. She called a friend, a neonatologist at Women & Infants Hospital in Providence, RI., who recommended Columbia's facilities. Within three days, the donation Kowalli Baby Carrier Covers were received at CUMC, where they are currently being distributed to women in need.
Kowalli has also made efforts to help retail baby stores serve their customers in need by offering two free Kowalli Baby Carrier Covers to any store in an area affected by Sandy. The retail value of The Kowalli is $69. Stores are free to distribute the donated item to their customers as they see fit. Kowalli is also offering free drop shipping to help retail outlets that may have lost power or run out of supplies during the storm.
Retailers interested in obtaining products should contact Alizah Holstein at 401.580.9644, or by registering as an affiliated retailer on Kowalli's wholesale website.
The Kowalli Baby Carrier Cover was called "Genius" by Babble.com, and recently won a coveted Mom's Choice Award for Innovation in Baby Gear. It is available for sale from Kowalli as well as from numerous brick and mortar and online stores across the country as well as internationally.
Kowalli was founded in 2009 by Alizah Holstein and the company remains mom-owned and operated. Kowalli specializes in well-designed fleece outerwear for babies and parents. All Kowalli products are made in New England.