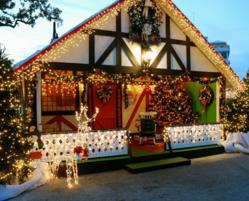 Volunteers from all over Pinellas county join together to give back to the community, as well as help people in need, while celebrating the holiday season
CLEARWATER, FL (PRWEB) November 07, 2012
For an event that takes over 5,000 man-hours to build and run, the Clearwater Community Volunteers makes it their mission to ensure Tampa Bay residents enjoy every holiday activity during the month-long festivities which represent the 20th Annual Winter Wonderland in downtown Clearwater. The Grand Opening is Friday, November 30th, at 6 pm. This family fun holiday display remains open the three weekends thereafter on Thursday-Sunday, 6–9 pm, and is located at NW Corner of Ft. Harrison Ave. & Drew St, Downtown Clearwater, Florida.
Each weekend Winter Wonderland boasts a sparking holiday display with tens of thousands of lights covering 100 trees, plus charmingly decorated alpine cottages in the village. Volunteers from all over Pinellas county join together to give back to the community, as well as help people in need, while celebrating the holiday season. Activities this year will include:
•Photos with Santa
•Cookie decorating with Mrs. Claus
•Petting zoo with pony rides
•Train rides
•Bouncy house, giant slide, playground
•Stage entertainment
•Hot Chocolate Shop
Due to the inspiration from L. Ron Hubbard's "Love and Help Children" precept, Winter Wonderland not only provides entertainment to the community, but the Clearwater Community Volunteers will be accepting food to be given to the Homeless Emergency Project, and toys to families with kids in the Nourish to Flourish program founded by Public Defender Bob Dillinger. Dillinger's "Nourish to Flourish" program provides food to unfortunate children who don't have food except during school-time by sending a tray of food home with them on the weekends. Each tray costs approximately $4.00 and for only about $200 a year, one child will be fed every weekend during the school year.
Entrance to Winter Wonderland is free, but visitors are encouraged to bring an unwrapped toy or canned goods. Winter Wonderland closes on Sunday, December 23rd.
For more information, visit clearwatercommunityvolunteers.org.
About Clearwater Community Volunteers (CCV):
Clearwater Community Volunteers (CCV) is a non-profit, charitable organization, made up entirely of volunteers and was founded by parishioners of the Church of Scientology in Clearwater. CCV produces the huge Easter Egg Hunt in Coachman Park in Clearwater every Spring and "Winter Wonderland" – an annual holiday charity drive in downtown Clearwater featuring 5 village buildings, 100 live pine trees, a fully functioning stage with entertainment, tens of thousands of tiny white lights, pony & train rides, a playground, a giant slide and bouncy house, and Santa and Mrs. Claus. CCV gets their inspiration from the quote by L Ron Hubbard, "Love and Help Children." CCV has raised over $100,000 over the past 16 years for charities such as Nourish to Flourish, Shriners Hospitals for Children, Tampa, Boys and Girls Club of the Suncoast, the Make-A-Wish Foundation and The Children's Home, Inc., the oldest orphanage in Tampa.