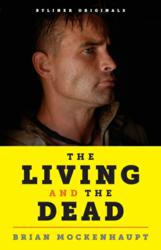 Two New Byliner e-Books Honor Veterans Day with True Stories of Soldiers and the Human Toll of War
San Francisco, CA (PRWEB) November 08, 2012
As Veterans Day (November 11) approaches, two new e-singles by digital publisher Byliner remind us of the human toll of war—something that often gets lost in the broad, cold facts of military budgets and sound bites about troop drawdowns.
The Living and the Dead: War, Friendship, and the Battles that Never End, by acclaimed journalist and Iraq War veteran Brian Mockenhaupt, tells the grippingly true story of three close friends—Tom, Ian, and Jimmy—whose courage is challenged every day as they walk the Afghan countryside patrolling for cleverly hidden explosives that can instantly tear a man in half. Reported on the front lines against the Taliban and in the homes where military families live in dread of the gray cars showing up at their door, Mockenhaupt's timeless and moving story reveals how those who sign up to do democracy's dirty work somehow manage to endure the unendurable.
Award-winning author Craig Vetter writes about his father in All My Love, Samples Later: My Mother, My Father, and Our Family That Almost Was. Vetter was a toddler when his father was blown from the fantail of a destroyer into the waters off Okinawa in the last months of World War II. For the young boy, life was forever changed—as was his family. It would be decades before Vetter could come to terms with the father he scarcely knew, by poring over the rich correspondence his parents had exchanged between 1940 and 1945—hundreds of pages that chronicle events from the Pearl Harbor attack to the births of Vetter and his sister. His parents' letters are filled with hope and yearning for the life they'll share once the war is over. But events in the Pacific would not turn out as they hoped. As Vetter writes, "Only the dead are finished with war."
About Byliner: Byliner commissions and publishes original stories written to be read in a single sitting. Bestselling Byliner titles include Amy Tan's Rules for Virgins, Margaret Atwood's Positron, Jon Krakauer's Three Cups of Deceit, Ann Patchett's The Getaway Car, Nick Hornby's Everyone's Reading Bastard, and Buzz Bissinger's After Friday Night Lights. The companion website, Byliner.com, gives readers personalized access to an unmatched library of fiction and nonfiction, handpicked by our editors. On Byliner, readers can discover new writers, explore, save, and share great stories, connect with other readers, and even engage directly with their favorite writers.
The Living and the Dead is available for $2.99, and All My Love, Samples Later is available for $1.99, as a Kindle Single at Amazon, a Quick Read at Apple's iBookstore, a Nook Snap at BarnesAndNoble.com, a Short Read at Kobo, and at Google Play.
For an Advance Reading Copy or to schedule an interview with Brian Mockenhaupt or Craig Vetter, please contact Clare Hertel at clare(at)byliner(dot)com; 505-474-6783.
###