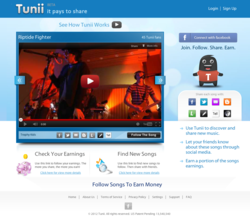 "The Trophy Kids passed the 3 second rule," Harrison explained. "If a song can grab your attention within 3 seconds, you know it has something."
Hollister, CA (PRWEB) November 08, 2012
Hollister, California is home to a new alternative rock band named Trophy Kids. What a great name for a band. As we know, these days, every kid gets a trophy, even when they finish last. This says a lot about the generation that the Trophy Kids are a part of.
So it comes as a pleasant surprise that Trophy Kids is such a great band, good enough to get the attention of Keith Harrison, President of Tunii Corp., when they submitted their song to Tunii.com.
"The Trophy Kids passed the 3 second rule," Harrison explained. "If a song can grab your attention within 3 seconds, you know it has something."
In addition to passing the 3 second rule, the Trophy Kids had some pretty good ammunition to grab attention from Tunii. They worked hard to build a Facebook fan page with over 1000 fans and a Youtube video with close to the same number of views. And those are real stats, not the fake, pumped up, paid-for stats that we see so often on social networks.
"We watch the activity on Facebook to see if the stats are real," Harrison said.
But what if a band has no following? Does that mean they can't get on Tunii's beta?
"Absolutely not," Harrison said. "We only care about the quality of the song."
That's because Tunii.com is crowdsourced promotion solution that pays fans to follow and promote songs. Tunii takes on the promotion burden as long as the song is worth promoting.
How does Tunii decide which songs make it?
"We have to fall in love with it," Harrison said. "It's actually very difficult to get on the Tunii beta."
That's exciting news for singer Jacob Oates, guitarist Colt Stocker, and the other members of Trophy Kids. They are getting a nice push from Tunii.
How's that going so far?
"Trophy Kids immediately started selling when their song was released," Harrison said. "So we're very excited about building on that."
Trophy Kids are on their way to success, success that's earned by hard work and not just something that's handed to them. Riptide Fighter by Trophy Kids is available for sale on iTunes and Amazon.
About Tunii.com:
The digital revolution continues to impact traditional media. Now, with Tunii.com, the cost of promoting new music is crowd-sourced, eliminating the need for large companies to provide capital to push artists and bands. With Tunii.com, the fans provide the marketing mojo that an artist needs to be successful, with more efficiency and with no debt incurred by the artist. There are no long term contracts that restrict an artist's options, so the upside to musicians is clear. They get all the benefits of Tunii without giving away their publishing rights, leaving them fully in control of their work's true potential.
Some of the artists to be early adopters of Tunii include Brett Burke, Trophy Kids, The Dreaming Society, Luna 13, After, Flava Hype, and Sovern.