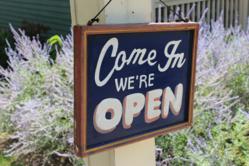 Mason, Ohio (PRWEB) November 06, 2012
Small Business Saturday is an American shopping holiday created by American Express and held on the Saturday after Thanksgiving, during one of the busiest shopping periods of the year. Small Business Saturday was first celebrated in 2010, and encourages holiday shoppers to buy in local stores and from small business owners. According to American Express, in 2011, more than one hundred million people came together to Shop Small in their communities on Small Business Saturday.
"Small businesses are the backbone of many of the towns in Warren County," said Phillip S. Smith, President & CEO of WCCVB. "We encourage visitors and local shoppers alike to shop small during the holidays, and year round, because when you shop locally and support small businesses, that money re-circulates here. It doesn't go out of state, it doesn't go overseas. It goes back into our community and supports local jobs and our local economy."
For the towns of Lebanon, Springboro and Waynesville, small businesses continue to grow, and retail shops continue to be one of the driving forces of their economies. Combined, there are more than 140 antique, boutique and specialty shops offering unique gifts and charming décor.
"Springboro's economy is supported by small businesses," said Carol Hughes, Executive Director of the Springboro Chamber of Commerce. "Fifty percent of our members have five or fewer employees, and an additional 45% have fewer than 25 employees. Springboro continues to grow, and new businesses continue to open. And those businesses are small, and locally owned."
"Every business in Waynesville is a 'small business,' which makes us distinctive from everyone else," said Dawn Schroeder, Executive Director of the Waynesville Chamber of Commerce. "We don't have a lot of chain stores. We are a group of individual businesses trying to make a name for ourselves, and we have done a great job of sustaining through the tough economic times this country has faced."
WCCVB will be highlighting small businesses on Facebook in the weeks leading up to Small Business Saturday. Each week, videos will be posted on the "Warren County – Ohio's Largest Playground" Facebook page to tell the story of a local business. Beginning November 6, a contest will take place each week for three weeks, and a prize will be awarded to one participating Facebook fan per week, sponsored by the Chambers of Commerce in Lebanon, Springboro and Waynesville.
For more information on Small Business Saturday, visit Facebook.com/SmallBusinessSaturday.
About the Warren County Convention & Visitors Bureau:
Warren County is Ohio's Largest Playground! With easy access from Interstates 71 and 75, visitors to Warren County can enjoy more activities within a 30-mile radius than anywhere else in Ohio.
The Warren County Convention & Visitors Bureau is a professional destination marketing organization committed to economic growth by increasing overnight and year-round visitors.
Tourism is the leading industry in Warren County. The 7.8 million yearly visitors drive an economic impact of $993 million and 10,657 tourism-related jobs.
For additional information, visit http://www.ohioslargestplayground.com or call 800-433-1072.
Warren County is Ohio's Largest Playground!®
###