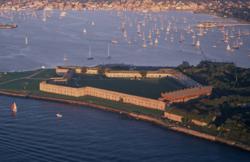 Where else can you see college athletes competing on brooms inside the walls of an American Castle
Newport, Rhode Island (PRWEB) November 07, 2012
Quidditch, the game and sport invented by J.K Rowling for her wizards to play in the Harry Potter series, is now a rapidly growing sport on college campuses. The International and Northeast Quidditch Associations are bringing the Northeast Quidditch Championship to Fort Adams November 17 – 18, 2012. The event runs from 9:00 AM to 4:30 PM each day and will be held rain, snow or shine.
According to Rick Nagele, Executive Director of the Fort Adams Trust, "This is the perfect place to play Quidditch. Adams is the largest coastal fortress in North America. You'll absolutely be impressed by the sheer size and scale of the place. The 6 ½ acre parade field – or area inside the walls – is large enough to hold Fort Ticonderoga, Fort Sumter and Fort McHenry. And the location is spectacular as well, at the entrance to the Narragansett Bay with views of Newport Harbor and the waterfront."
Twenty five teams, mostly from colleges in the Northeast will compete on five fields, three inside the walls and two on the north lawn. Universities and colleges participating include such schools as: the Universities of Massachusetts, Vermont, Rochester and New Haven; Rensselaer Polytechnic Institute, Brandeis, New York University, Tufts, Middlebury College and Harvard. The University of Rhode Island is the host team.
Laurie Labrecque, Director of Special Events for Fort Adams pointed out that this is a family event, with programming designed for 'wizards of all ages.' "You can also join with the International Quidditch Association and play "Kidditch" – or kids Quidditch - on Saturday and Sunday from 1-2pm!"
Laurie also notes that, "the Association is introducing this sport to kids of all ages by explaining the rules and teaching you how to play. Kids will be able to run around with brooms, toss around the Quaffle, throw Bludgers or chase the Snitch in a designated "training" area. They can also participate in mini games to give Quidditch a try. Most importantly, we want everyone to have fun! Brooms up!"
Nagele adds that, "This event is free admission thanks to our great partner IHOP Middletown and owners Bill and Karen Cardinal. They are picking up some of the expenses and also are participating in the event by providing some great food."
"We want people to have a good time," says Labrecque. "We'll be offering coffees and breakfast food starting at 8:30 AM, with multiple food vendors selling a variety of lunch and snack items starting at 11:00 AM. Hot and cold beverages will be served – and we'll even provide free recipe cards for ButterBeer – the official drink of Quidditch champions! And yes, ButterBeer is a non-alcoholic beverage."
"The event will keep you engaged," Nagele emphasized. During breaks in the action you can try your hand at our Airsoft Target Range or take a guided tour of the Fort. The tunnels have fascinated people for over a hundred years and make for a very exciting tour.
Where else but at Fort Adams can you see college athletes competing on brooms inside an American Castle?
Historic Fort Adams is rapidly becoming Newport Rhode Island's 'Adventure Learning and Recreation Destination.' Programming includes events like Quidditch, the recently concluded Fortress of Nightmares, and a new teambuilding center opening this spring, complete with zip line. These activities are designed to attract people to the Fort with action oriented events, thereby encouraging them to learn more about the Fort, local and military history, and engineering and architecture during their visits.
Historic Fort Adams is operated by the Fort Adams Trust, whose mission is to direct and support the stabilization, restoration, maintenance and operation of Fort Adams as a public historic site. Proceeds from events benefit the preservation and continued programming.
Fort Adams is located in Fort Adams State Park on Harrison Avenue in Newport, Rhode Island.