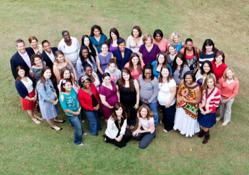 Douglasville, GA (PRWEB) November 08, 2012
Carousel Designs announced today a donation of more than $60,000 to Operation Shower, a non-profit organization that hosts baby showers for military spouses to ease the stresses of deployment. The donation will be made in conjunction with the national #GivingTuesday initiative, a first- of-its-kind national effort to inspire people to take collaborative action to improve their local communities, give back in better, smarter ways to the charities and causes they support, and help create a better world.
#GivingTuesday will take place November 27, 2012, and Carousel Designs' donation will be used to sponsor several group baby showers for expecting military moms in 2013, including product donations for each event. Since 2011, the baby bedding company and nursery décor company has sponsored five Operation Shower events, taking place in Camp Lejeune, N.C., Los Angeles, San Diego, Atlanta and New York.
"We are delighted to continue our partnership with Operation Shower in 2013," said Carousel Designs CEO Jonathan Hartley. "Each event so far has been a privilege for us to be a part of; we look forward to stepping up our support of this tremendous organization in order to honor even more military families in the coming year."
Celebrating and honoring military families is at the core of Operation Shower's mission. The organization's signature baby showers are a special celebration for military moms-to-be during what is otherwise an often challenging time. The showers provide wonderful items for the new babies and moms, and help bring the women together to celebrate with others in the same situation. Many of the showers are held during professional golf tournaments as part of a national partnership with Birdies for the Brave (http://www.birdiesforthebrave.org), a national military outreach initiative proudly supported by the PGA TOUR.
"We are so grateful to Carousel Designs for their support," said Operation Shower Founder and Chief Shower Officer LeAnn Morrissey. "Without donations from generous companies, we simply would not be able to reach as many military families as we have. We are thrilled to continue our partnership with Carousel Designs and to bring joy to many more military families in 2013."
Jonathan Hartley and his business partner, Carousel Designs President Allan Sicat, are both West Point graduates and former U.S. Army officers. Sicat explains their commitment to Operation Shower, saying, "As former officers ourselves, with several of our own family members still serving, we know that in the military, the entire family serves and sacrifices; we appreciate the opportunity to express our gratitude for all these women do for our country."
About Carousel Designs
Georgia-based Carousel Designs, a contemporary and trend setting leader in the baby bedding industry was founded in 1988. For more than 24 years, Carousel Designs has manufactured high quality baby bedding, toddler, twin and full/queen size bedding and nursery décor. Carousel Designs is the only baby bedding company that allows parents to design and create their own virtual nursery online with their Nursery Designer, a unique, interactive design tool. The company also offers more than 100 pre-designed ready-to-ship crib bedding collections and more than 400 fabrics to choose from in a range of versatile styles. All Carousel Designs products are proudly made in the USA. For more information, visit http://www.babybedding.com.
About Operation Shower
Operation Shower is a non-profit organization dedicated to celebrating and honoring military families by providing joyful baby showers for military moms-to-be to ease the stress of deployment, or in cases where spouses are seriously injured. Since the organization's inception in 2007, Operation Shower has showered more than 900 military moms from the Army, Navy, Air Force, Marines and National Guard on military bases, during PGA TOUR tournaments, and at other locations. For more information, visit http://www.operationshower.org.
About #GivingTuesday
#GivingTuesday is a movement to celebrate and provide incentives to give. It will culminate with a national day of giving on November 27, 2012. This first-of-its-kind effort harnesses the collective power of a unique blend of partners— charities, families, businesses and individuals—to transform how people think about, talk about and participate in the giving season. #GivingTuesday will inspire people to take collaborative action to improve their local communities, give back in better, smarter ways to the charities and causes they celebrate and help create a better world. #GivingTuesday will harness the power of social media to create a national moment around the holidays that is dedicated to giving, similar to how Black Friday and Cyber Monday have become days that are synonymous with holiday shopping. To learn more about #GivingTuesday participants and activities or to join the celebration of giving, please visit http://www.givingtuesday.org.