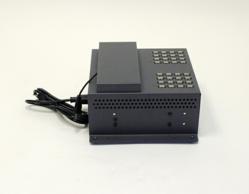 "Seamless charging and syncing of 32 iPads"
Martinez, Ca (PRWEB) November 07, 2012
With the increased use of iPads in education, Educational Technologists are scrambling to find a mass charging and content syncing solution for iPads in classrooms. These Educators require much of the same content and apps across all student devices (iPads). This has caused them to improvise frustrating non-standard integration methods… until now. On Monday November 5th, D&D Security Resources introduced the SYNC-CHARGE32 to provide the seamless charging and syncing of 32 iPads. Link: http://www.ddsecurity.com/product/644 The new device works with the all iPads, iPods, iPhones and also the new iPad Mini (all iOS devices).
The SYNC-CHARGE32 works with Apple Configurator, allowing a user to charge and sync up to 32 iOS devices to a single iTunes account. In addition to full syncing capabilities, this innovative new product provides 2.1 amps of power per USB port for simultaneous charging of 32 devices. Unlike previous solutions, the SYNC-CHARGE32 uses a standard 120 volt circuit which will charge iPads (which require the 2.1amps to charge) and other smaller iOS devices.
Designed for classrooms, libraries, deployment labs and training environments, this self-contained module can be used on a countertop, installed inside a mobile cart, or transported from room to room in a small carrying case (optional). Weighing just over 9 pounds, the SYNC-CHARGE32 measures 9.5" x 12" x 6.5".