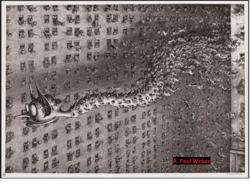 Spin contributes to an infectious climate of hyper vigilance and suspicion.
Asheville, NC (PRWEB) November 07, 2012
"One of the most potent forces fueling our polarization is illustrated by this striking image by the German artist A. Paul Weber in 1943 Germany. Almost all the information we get is either packaged before we see it or spun instantaneously when we do see it. Hardly had the first debate ended when I realized I was being told what I thought before I even had a chance to think about it. Spin becomes the message in the same way that more than 40 years ago Marshall McLuhan told us that the media was the message. Spin contributes to an infectious climate of hyper vigilance and suspicion. This is the rumor beast which in my opinion is as toxic to the psyche as mercury is to the body." The Asheville Jung Center dives deep into the American political universe. The Asheville Jung Center was founded in 2008 to advance the psychology of Carl Jung and promote an international Jungian community. It is affiliated with innerQuest Psychiatry and Counseling, a regional psychiatrist group.
The Asheville Jung Center, in conjunction with The C. G. Jung Institute of San Francisco and innerQuest Psychiatry, held a 5 hour internet seminar last weekend entitled The "Citizen's Dilemma in Divisive Times: Four Voices". The live presentation was broadcast to a global audience and explored the unconscious trends that grip not only Barack Obama and Mitt Romney, but essentially all of U.S. Politics. The seminar offers 5 hours of Continuing Education Credit for therapists.
Tired of Pundits, PACs, and Politicians?
Surprised to see ABC's Nightline featuring a psychoanalyst's profile of the candidates after the second debate?
How does anyone get their bearings from the "Spirit of the Depths" as well as the "Spirit of the Times"?
When Candidate Obama said "so, it's not surprising that they get bitter, they cling to guns or religion or antipathy to people who aren't like them... (speech April 10, 2008)" he was speaking of the psychology that shapes the body politic.
Four Jungian presenters offer a radically different approach to deciphering the mystery of the psychologically charged times in this Presidential election.
The Huffington Post's recent interview by Pythia Peay with Dr. Murray Stein discussed some of these deeper forces shaping this presidential election. Excerpts from the interview illustrate how Jungian Psychology can reveal the code:
Dr. Murry Stein, president of the International School of Analytical Psychology, describes our two party political system as "whenever you have two of anything running against each other you're going to have a splitting process: It's a psychological phenomenon."
Dr. Stein goes on to say "Differences are necessary in order to have growth and dynamic movement. Out of the dialectic between two polarities, a new possibility emerges. But if the "opposites," or in this case the two parties, become completely unrelated, then the collective psyche is in danger of splitting: There's no forward movement, there's just mutual aggression, stalemate and stagnation. The system doesn't evolve, it devolves, and you don't want to see that happen."
The Citizen's Dilemma in Divisive Times: Four Voices internet seminar is a deep exploration of the undercurrents and shaping forces at play in this highly charged historical moment.
The seminar is still available for viewing at this LINK.
Presenters:
Thomas Singer, MD, a psychiatrist/Jungian analyst will explores emotions and complexes in the collective psyche.
Richard Stein, MD, a psychiatrist/Jungian analyst, offers guidance for the introvert in times of political extremism.
Naomi Ruth Lowinsky, PhD an analyst and poet reminds us that poetry sings our cultural myths, mourns what's been lost, and praises the newborn day.
Richard Tarnas, PhD, author of The Passion of Western Mind and Cosmos and Psyche explores our times from an archetypal astrological perspective.