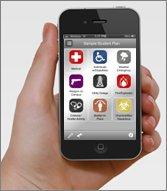 Herndon, VA (PRWEB) November 07, 2012
With winter weather quickly approaching, leading mobile app and software developer Irving Burton Associates (IBA) today announced the release of the latest version of its emergency preparedness app, In Case of Crisis. The version 2.0 enhancements offer a new look and feel for both iOS (iPhone/iPad) and Android users.
Summary of Version 2.0 Enhancements:
•Added a brand new look & feel for events and contacts.
•Simplified the application for faster downloads.
•Now using asynchronous communications to indicate download progress.
•Enhanced display features for backgrounds and events.
•PDF's can now be zoomed so employee and student handbooks are easier to read.
•Added a Hospitality edition to the In Case of Crisis series of applications.
•Increased the speed in workflows using the new asynchronous communications.
•The Educational version now has an alarm feature next to the flashlight.
•Enhanced the "event response" text for calling or navigating to external references.
•Notification and downloading of updated plans has been enhanced.
•The "add plan" directory has been re-built for a nicer look and feel and better functionality.
•The default templates for Government and Education now include an event for accessibility.
To view the updates, new users can click here to download the apps. Current In Case of Crisis users that have already downloaded the app and have an active plan can simply open the app on their mobile device to see the updated versions.
There are sample plans available in the corporate, education, and government versions of the app. If needed these sample plans can serve as templates or provide ideas for crisis/emergency plans for businesses, schools, colleges, and government agencies.
For more information about these applications please visit http://www.incaseofcrisis.com.
About In Case of Crisis
Developed by leading software and mobile applications developer, Irving Burton Associates (IBA), In Case of Crisis is the premiere smartphone app and crisis communication tool that makes it easier for companies, schools and government to better prepare for emergencies. In Case of Crisis is an all-in-one mobile solution that enables organizations to transform an outdated, static paper-based emergency document into a dynamic, accessible crisis plan. With In Case of Crisis organizations can go above and beyond standard emergency information. In Case of Crisis tailors a solution unique to almost any organization. Plans are built, administered and updated online, stored in the cloud and downloaded directly to mobile devices such as smartphones and tablets. For more information about In Case of Crisis, please visit http://www.incaseofcrisis.com.