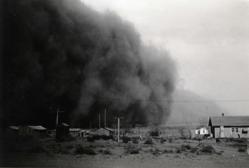 Miami, FL (PRWEB) November 08, 2012
The Dust Bowl, a new two-part, four-hour documentary by Ken Burns, airs Sunday-Monday, November 18-19, 2012, 8:00-10:00 p.m. on WPBT2. The film chronicles the environmental catastrophe that, throughout the 1930s, destroyed the farmlands of the Great Plains, turned prairies into deserts and unleashed a pattern of massive, deadly dust storms that for many seemed to herald the end of the world. It was the worst manmade ecological disaster in American history.
Written and co-produced by Dayton Duncan, The Dust Bowl tells the story of the farming boom in the early 20th century that transformed the grassland of the southern plains into wheat fields. Once a drought hit in 1931, winds began picking up soil from the open fields and grew into dust storms of biblical proportions.
Each year for nearly a decade, the storms grew worse, sweeping up millions of tons of earth, killing crops and livestock, threatening to turn the southern plains into a Sahara, even spreading the dust clear across the country. Children developed fatal "dust pneumonia," business owners unable to cope with the financial ruin committed suicide and thousands of desperate Americans were torn from their homes and forced on the road in an exodus unlike anything the United States had ever seen.
The Dust Bowl is also a story of heroic perseverance against enormous odds: families finding ways to survive and holding on to their land, national and local government programs that kept hungry families afloat and a partnership between government agencies and farmers to develop new farming and conservation methods.
Further information about the film including interviews, photos and trailers can be found at pbs.org/dustbowl.
The Dust Bowl is a production of Florentine Films and WETA, Washington, DC. Director: Ken Burns. Writer: Dayton Duncan. Producers: Dayton Duncan, Ken Burns and Julie Dunfey. Editors: Craig Mellish and Ryan Gifford.Cinematography: Buddy Squires and Steve McCarthy. Voices: Patricia Clarkson, Kevin Conway, Amy Madigan and Carolyn McCormick. Narrator: Peter Coyote.
###
About WPBT2
South Florida's premier public broadcaster, WPBT2, is a community-licensed, not-for-profit media enterprise serving communities from the Treasure Coast to the Florida Keys. WPBT2 provides high quality content from PBS, independent acquisitions and its own original productions. WPBT2's digital media platform, offers: 2HD, a 24-hour high definition channel; Digital 2.2, a mix of Science & Nature Channel, The Florida Channel and Create; Digital 2.3, V-me, a 24-hour national Spanish-language network; and http://www.wpbt2.org, the WPBT2 website including, Impromp2 (a community blog), the WPBT2 Video Player and uVu, a video sharing website.