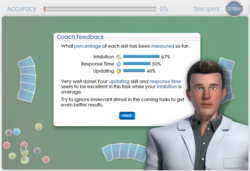 These new brain games have been developed so CogniFit can continue offering the most complete and exhaustive brain training to its users
New York, NY (PRWEB) November 08, 2012
CogniFit, a leading developer of online brain training and cognitive programs announces today the release of additional free tasks to its cognitive training platform. The "Twist It" and "Neuron Madness" tasks have been specially designed to train cognitive skills such as focus and planning.
Focus, the ability to sort different visual and auditory stimuli so as to prioritize actions, often requires ignoring certain irrelevant information in order to successfully allocate attention to another. This ability is developed through the years and can be trained over time.
Planning, on the other hand, is the ability to "think ahead", to mentally anticipate the correct way to execute a task. This cognitive ability involves selecting the activities required to achieve a goal, deciding on their appropriate order and creating a plan.
Gutxi Haitz, Cognitive Tasks Design Manager at CogniFit, explains: "These new brain games have been developed so CogniFit can continue offering the most complete and exhaustive brain training to its users. CogniFit continuously add new tasks to its brain fitness platform to respond to the growing demand of users for useful, effective and diverse brain training tasks. "
Researchers have shown that the training of cognitive abilities can bring important benefits to the trainees for a large range of needs which may, in turn, be influential in improving quality of life.
For example, when setting up the day's schedule, individuals must consider the tasks that need to be done, where they must go, task priorities and the time required to complete each task. Training planning can help individuals go through those processes more efficiently. Planning demands creativity which activates the brain and helps to maintain cognitive resources. It can also reduce cognitive decline that can result in lost time and energy. Decreased planning ability will make things difficult when, for example, people arrange a gathering that involves sending invitations, making phone calls and buying food.
The new tasks are immediately available and free to use on the CogniFit website.
About CogniFit
CogniFit (http://www.cognifit.com) is a leading developer of online cognitive programs that enable people to discover and improve themselves.
Founded in 1999, CogniFit has developed a unique and patented technology that allows consumers to assess and train their cognitive skills and abilities to improve their quality of life. CogniFit is headquartered in New York City with branches in Europe.
The CogniFit brain fitness platform is available in more than 30 countries and in 7 different languages including English, Spanish, French, Italian, German, Brazilian and Portuguese.
For additional information or interviews inquiries, contact the PR department at media (at) cognifit (dot) com