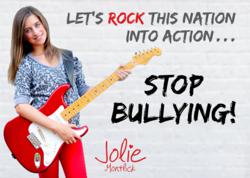 Finally a positive uplifting anti-bullying message that empowers kids. "My Song for Taylor Swift" is the best Anti-bullying music video ever!
Atlanta, GA (PRWEB) November 08, 2012
Jolie Montlick has turned her love of music and songwriting into inspiration and help for kids in her recently released song and anti-bullying music video, "My Song for Taylor Swift". The video has gone viral in less than 4 weeks, having been seen around the world in over 100 countries. The music video recently premiered to a crowd of 10,000 people in Atlanta for October National Anti-Bullying Month, and Jolie appeared live to bring her message of kindness, compassion and hope. With its catchy tune and cast of over 150, the video empowers kids to take positive actions in the face of bullying, and to be a friend to someone who is being bullied. It also honors Taylor Swift, who was once a victim of bullying.
In what many people have called the "best anti-bullying music video ever," "My Song for Taylor Swift," with its upbeat tune and heartwarming scenes, is already having a major impact. Kids who have heard the song or watched the video have said: "I am not going to be a victim anymore;" "It made me realize that I am not alone;" and "I am going to speak up the next time I see someone being bullied." And the music video has been used for community and school anti-bullying rallies to show examples of positive actions that kids should be taking.
Jolie decided to write the song after sitting in the front row of Swift's "Speak Now" Tour. "I was inspired by Taylor and how she overcame bullying and became such a positive role model. She didn't let bullying and what others thought stop her from accomplishing her goals," says the 5th-grader. "I also believe that courage and kindness are contagious, and the more kids lead by example, the more kids will follow."
Jolie is taking a leading role in raising awareness of bullying and providing kids with solutions. When she's not wowing fans, Jolie, along with her sister Nikki, are the national spokespeople for A4K, the Ambassadors 4 Kids Club (a4kclub.org), a nonprofit organization dedicated to empowering young people to speak out against bullying and child abuse. The sisters have appeared in numerous television interviews and public service announcements, to promote awareness and to help provide kids with the information they need to prevent, stop and report bullying and child abuse. "Sadly, over 50% of kids will be the victim of bullying at some point in their life…and 85% of the time kids just stand by and do nothing" Jolie notes. "In the face of bullying, there's no such thing as an innocent bystander. We all have the power to play a key role in preventing or stopping bullying."
According to Lin Seahorn, Founder of Children Without a Voice, USA and A4K: "We are very proud of Jolie. It takes a very brave person to put herself in the public eye at such a young age. What she is doing is amazing and will save kid's lives!"
And Jolie, who turned 11 after filming the video, is doing more than talking and singing about bullying. She is donating 100% of the net proceeds from the sale of "My Song for Taylor Swift" to the A4K Club to help stop bullying. As Jolie says on her website: "I believe you are never too young to make a difference!" The video can be seen at JolieMontlick.com and on YouTube. "My Song for Taylor Swift" is available for purchase, along with her other songs, on iTunes, Amazon and other digital distribution sites.
About Jolie:
When not in school or working on her music, Jolie gives generously of her time to help others. As National Spokesperson for A4K, Jolie appears in public service TV messages and news interviews to encourage kids to use their voices to speak out against bullying, and to take positive actions to help kids who are being bullied. Jolie is also a 2nd degree black belt and two-time state champion in Tae Kwon Do, and has helped teach self-defense and life skills to over 1,000 kids. In addition to "My Song for Taylor Swift", Jolie has just released three new singles that are available on iTunes and Amazon: "Just One Day", "Crazy For You" and "Need You." For more information, please visit JolieMontlick.com.
Please contact us for access to broadcast quality video files, high-resolution photos and mp3 files.