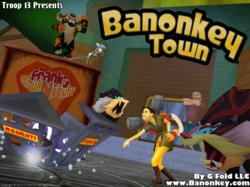 "Banonkey™ Town merges extraordinary artwork with easy to use controls and a robust story line, guaranteeing repeat playability on multiple platforms."
Minneapolis, MN (PRWEB) November 12, 2012
Today, Troop13 Studios by G Fold LLC, launched a Kickstarter campaign (http://www.kickstarter.com/projects/347207231/829936862?token=fe4d0441) to help fund five episodes of Banonkey™ Town, a 3D action/adventure game series for mobile (Android, iOs) and Mac/PC.
"We're taking advantage of the technological capabilities of mobile devices and creating a game that combines an ever-thickening plot with fun dialogue and quirky characters, and releasing a new episode every thirty to sixty days," says Soulaire Allerai, CEO of G Fold LLC. "Banonkey™ Town merges extraordinary artwork with easy to use controls and a robust story line, guaranteeing repeat playability on multiple platforms."
About Banonkey™ Town
You are the new zookeeper in Banonkey™ Town. With the help of your trusty banana cannon, you must capture the monkeys that have escaped from the zoo, help the townspeople, save Frank from the plundering Proboscis, climb to the top of Laida's tree fort, and unravel the mysteries of the Monkey Temple. The secrets surrounding Banonkey™ Town veil the truth and motives of its townspeople. It's up to you to get the answers you need to return the monkeys to safety.
"Banonkey™ Town isn't just about catching monkeys, it's about saving the town and everyone in it," says Soulaire. "It's a game with a story that draws you in. Banonkey™ Town has a depth that you will only uncover once you begin to play it… Don't let the monkeys fool you."
You can view a video of actual gameplay at http://www.kickstarter.com/projects/347207231/829936862?token=fe4d0441, where you can also become a backer and learn more about Banonkey™ Town.
Troop 13 Studios is using Kickstarter to raise money to finish five episodes of Banonkey™ Town. The funds will be used to pay for quality music, sound effects, a server to host the game, additional software licensing, rent and pay for the development team.
About Troop 13 Studios
Troop 13 Studios is a dynamic group of innovators from all ages and walks of life. They are bound together by a desire to use modern communication technology to make a positive difference in the world. The team was hand-picked by Soulaire, an incredible story-teller who took a leap of faith and pulled together an amazing group of young and creative talent to help bring her vision to life. Soulaire purposely hired a mix of students and recent graduates in the gaming field to work on Banonkey™ Town. She believes the planet's young people are our most valuable resource and that there should be no such thing as a starving artist.
"Until recently, the barriers to entry in the industry were too big for us to even consider creating a video game," says Soulaire. "Now, with fan based funding and digital distribution, the landscape of video game development has become feasible for independent, creative studios like ours."
From day one, Troop 13 Studios development team has received competitive pay. However, Soulaire's management team works pro bono. All funds raised on Kickstarter are earmarked for game development and to assist in the day-to-day operations of the project.
The creators of Banonkey™ Town appreciate your time. Having viewed the video, please visit http://www.banonkey.com and let Troop 13 Studios know what you think.