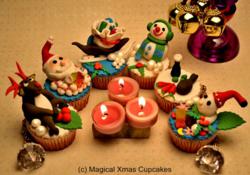 Jingle on Kindle
Belleville, WI (PRWEB) November 07, 2012
Today 32 Degree Studio went live with Kindle edition of their book. It has been priced at just $1.99 in Kindle stores. It is available across Amazon network websites in US, UK, Germany, Italy, Spain, France and Japan. This has been done to reach out to maximum home bakers and cupcake lovers looking for fresh designs for 2012.
Kindle edition has the biggest advantage of being readable across various platforms. This digital book can be read on IPhone, Ipad, Blackberry, desktops, laptops, android phones and tablets by just downloading free app reader. It is also compatible with Kindle, Kindle Touch and Kindle Fire.
Most importantly it is not a financial burden on any pocket. Holiday season calls for a lot of spending and people try to find the best in lowest price. Keeping this in mind Kindle version at a lower price is launched so that every home baker can craft stunning designs without spending a fortune. Cupcake workshops for festive designs are priced at $100 plus.
Another benefit to readers would be instant wireless download to their devices after successful payment. So users don't have to wait for days, as in the case of paperback editions. Also digital versions are portable; readers can carry them along on their devices.
Apart from digital version, regular paperback edition is also available across Amazon network websites.