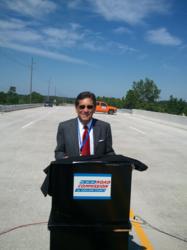 I've never been more excited to cross a bridge!
Troy, Michigan (PRWEB) November 07, 2012
The Road Commission for Oakland County (RCOC), in partnership with the City of Rochester Hills, completed the replacement of the Livernois Road Bridge this past week. The bridge sits over the Clinton River just south of Avon Road in Rochester Hills and required the closure of Livernois Road during its construction. The completion of the bridge allowed for Livernois Road to be re-opened and the event was marked with an official ribbon-cutting ceremony yesterday, Monday, November, 5th 2012. Road Commissioner Gregory Jamian, along with other government officials in attendance, cut the ribbon.
The Livernois bridge replacement project started in mid-July following the replacement of the nearby Avon Road Bridge over the Clinton River, just east of Livernois. Both bridges had deteriorated significantly in recent years, putting a rush on the project.
"It was with innovative funding that this Bridge was completed 2 year before schedule," said RCOC Commissioner Greg Jamian. Funding through the state's Local Bridge Program was originally approved for the Livernois Bridge for 2014, but Jamian was successful in his efforts, along with all stakeholders, to move the funding forward two years.
"Replacing two adjacent bridges, the Avon and Livernois bridges, over the Clinton River in one construction season was no easy task," commented Jamian. "We understand that this created some problems for motorists, but both bridges were experiencing an accelerated rate of deterioration and had we not taken immediate action, motorist safety would have been compromised."
"This was a tremendous team effort," stated Rochester Hills Mayor Bryan Barnett. "I'm very proud of the work our city staff did in assisting with this project. I am sincerely grateful to Commissioner Jamian's efforts and sincerely appreciative to our residents for their patience and understanding as we moved this critical infrastructure project forward. I've never been more excited to cross a bridge!"
RCOC Commissioner Greg Jamian also thanked Michigan Department of Transportation (MDOT) and the Department of Environmental Quality (DEQ) for their guidance and cooperation during the construction of this environmentally sensitive project. The Clinton River is home to several species of fish and extra effort was required to not upset the fragile ecosystem of this river.
The Livernois Bridge cost approximately $3.2 million to replace. Of that amount, $2.5 million came from the state's Local Bridge Program (a combination of state and federal funds dedicated to replacing bridges on local roads in Michigan). The city contributed $118,000 while RCOC is adding $486,000. Jamian further stated that in spite of falling road improvement revenues this year, over $18 million was invested in improvements in Oakland County roads in 2012."