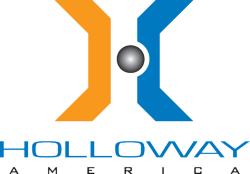 It's great to spend time discussing the latest innovations with people who share our passion for pharmaceutical engineering.
Springfield, MO (PRWEB) November 08, 2012
HOLLOWAY AMERICA today announced plans to exhibit at the 2012 ISPE Annual Meeting in San Francisco, California from November 11-14. Company representatives will discuss field services for fabrication of stainless steel tanks and pressure vessels as well as address reasons HOLLOWAY's H-Connect™, H-Series Manway and other tank components are widely trusted in the pharmaceutical industry. The four-day conference at the San Francisco Marriott Marquis will host executives from highly influential pharmaceutical companies, key government regulators and some of the world's most innovative engineers.
HOLLOWAY Sales Engineers David Lipsky and Evelyn Gayer will be located at table number 67, and they're already looking forward to the conference. "Many of the ISPE's stated focuses for this year's annual meeting fit perfectly with our own services. Whether meeting strict regulations with products like our ASME-Code H-Connect or finding efficiencies with our spring-assist H-Series Manways, HOLLOWAY components, pressure vessels and engineering services are proven to help pharmaceutical companies improve their processes. We always enjoy discussing exactly how we can benefit folks in the industry," said Lipsky.
Gayer added that with many of the fabricators and engineers who produced the original Precision Stainless pressure vessels and parts, HOLLOWAY's craftsmen have spent decades serving the pharmaceutical industry. She went on to say, "Few fabrication companies can match the experience of our master craftsmen. Knowing how well we can serve these companies makes me look forward to the ISPE meeting each year. It's always nice to spend some face-to-face time talking about the latest innovations with people who share our long-standing passion for pharmaceutical engineering."
The company's representatives also anticipate providing answers about field fabrication, preventive maintenance, 24/7 TURBOSERVE™ and HOLLOWAY's other YourSite™ Field Services, as Lipsky stated: "With so much at stake and so many people counting on pharmaceutical breakthroughs, it's critical to correct processing stoppages as quickly as possible. That makes our field fabrication and emergency repair services a popular topic at every ISPE Annual Meeting. And we welcome the questions; they let us explain how we approach service and how our near-immediate, expert attention will eradicate downtime and get our customers up and running right away."
For more information about field services, stainless steel tanks or pressure vessel components, visit the HOLLOWAY AMERICA exhibit at the 2012 ISPE Annual Meeting or contact a representative at 417.863.0077 or by email at info(at)HollowayAmerica.com.