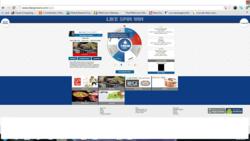 Real Winners, Real Prizes EveryDay!
USA (PRWEB) November 12, 2012
Likespinwin has now officially launched. Right in time for black Friday and the Holiday season. Businesses are giving away over $100,000 dollars in free prizes.
With the Holidays around the corner, unemployment at 10% and the economy still down many people are asking themselves how am I going to afford presents this year? Likespinwin offers a simple the solution.
Haven't heard of Likespinwin? Well then you're in for a real treat. Likespinwin is a free game, similar to "Wheel of Fortune" that gives consumers the opportunity to win prizes from participating businesses in exchange for "liking" a particular business, product or service via Facebook. Pretty cool, right?
Likespinwin offers consumers the ability to win thousands of dollars in free prizes each and every day. Real winners, real prizes, every day. Best of all the odds of winning are on your side.
Here's how it works:
1. Start by accessing the likespinwin website or by downloading the likespinwin app for iPhone or Android.
2. Log In with your Facebook account. (You will need to have a Facebook account to play).
3. Next, select a prize wheel sponsored by a business. (You can spin all of them if you want)
4. You can spin each wheel in exchange for a Facebook like. It is that easy.
Win prizes simply by liking products that you are interested in winning.
The reason businesses give Likespinwin the products to giveaway is because it is a win-win situation. Businesses gain Facebook likes and and consumers win free prizes and receive exclusive offers.
Example on Odds of winning:
If a business gives Likespinwin 100 prizes in exchange for 1,000 likes. The odds of winning are 1 out of 10.
The more users the better the prizes likespinwin can give away. Make sure to forward this to friends, there are plenty of prizes to go around.