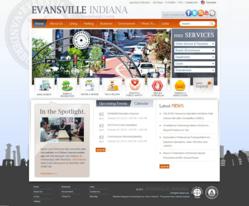 Unlimited access to the robust government-focused visionCMS™ has truly transformed management of the City and County website.
Evansville, IN (PRWEB) November 13, 2012
The City of Evansville and Vanderburgh County have joined forces online. The newly combined and redesigned website is live and can be accessed at http://www.evansville.in.gov.
The overall design and layout of the website was transformed to portray the uniqueness of life in both the City of Evansville and Vanderburgh County. Combining the site structure of two sites into one cohesive design took a high level of strategic planning.
Through the use of online surveys, the City and County polled citizens to help determine the best approach to the new site. In the end, the City of Evansville was decided to be the primary focus of the site design with Vanderburgh County information thoughtfully worked into the new design and structure.
Evansville Mayor Lloyd Winnecke and Vanderburgh County Commissioner Marsh Abell announced the launch of the combined website on September 12.
In a news release about the launch, Winnecke was quoted as saying, "…it's important that visitors land on a website that reflects our community's vitality and quality of life. We want them to know this area is a good place to live, work and raise a family."
Abell added, "The redesigned website focuses on what people are searching for, the questions they need answered, and the services they want to find. There are quick links to information on how to pay your property taxes or utility bills online, meeting times and locations, and job openings."
The new website was created in partnership with Vision Internet and runs on their powerful government content management system – the visionCMS™.
Access to this robust government-focused technology has transformed the management of the website. Multiple staff members can now easily make updates to the site using a number of powerful yet easy-to-use interactive components. Simple updates mean more information and services for site visitors, such as:

Online billing
Permit & Inspection instructions, fees, etc.
Parks & Recreation information
Streaming news & interactive calendar events
Multi-lingual translation
Direct links to all social media profiles
and much more!
Additional design themes were created for Burdette Park and Mesker Park Zoo & Botanic Garden. To truly enjoy everything the new City of Evansville/Vanderburgh County website has to offer, please take a moment to visit the new site.
To learn more about the powerful government CMS that has allowed the City and County to effectively combine their online communications, please visit http://www.visioninternet.com/freedemo and sign up for a free, no-obligation demonstration.
About Vision Internet:
Vision Internet is the national leader in government website development with nearly 500 government, non-profit, and education clients across the US and Canada. Over the past 16 years, Vision Internet has been creating industry-defining websites for communities ranging in populations of less than 1,000 residents to more than 5 million. Widely recognized as the government website experts, the company has earned hundreds of prestigious industry awards for its unique websites.