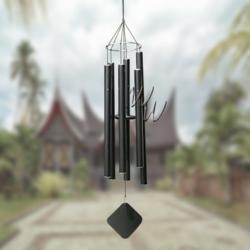 This 30% discount we are providing is a limited opportunity to get these amazing high-quality chimes at a value, just in time for the holiday shopping season
Clarksboro, NJ (PRWEB) November 08, 2012
Whimsical Winds Wind chimes, the largest online retailer of wind chimes, has announced a new sale on one of its popular lines of name-brand wind chimes. For a limited time (November 16th, 2012- December 2nd, 2012) only, Whimsical Winds will be offering Music of the Spheres wind chimes at 30% their original prices, and many models will even include free shipping.
Music of the Spheres wind chimes are 100% made in the United States of America, and are available in sizes from 30 inches all the way to the 14-foot "Basso Profundo". The chimes are crafted from solid cast aluminum, and are backed by a 10 year warrantee as a testament to their durability and quality construction.
"Music of the Spheres makes a beautiful chime," said Alexander Innes of Whimsical Winds. "They are a premier quality brand, and their chimes are each carefully hand crafted and precisely tuned for a wide range of beautiful notes. This 30% discount we are providing is a limited opportunity to get these amazing high-quality chimes at a value, just in time for the holiday shopping season."
Whimsical Winds Wind Chimes will offer Music of the Spheres chimes at this special holiday price for just over two weeks. From November 16th until December 2nd, holiday shoppers will be able to get Music of the Spheres chimes at 30% off only during this limited time.
To Shop Whimsical Winds' selection of Music of the Spheres Wind Chimes, visit:
http://www.whimsicalwinds.com/c/Music_Of_The_Spheres.html
To receive coupons and learn about exclusive savings going into the holiday shopping season, you can sign up for the Whimsical Winds Wind Chimes Newsletter:
http://www.facebook.com/whimsicalwinds/app_166303603381066
About Whimsical Winds Wind Chimes:
Whimsical Winds Wind Chimes is the largest retailer of wind chime on the web with over 800 styles available from some of the most popular wind chime manufacturers. Wind chimes make the perfect gift, memorial, or personal addition to your home. Carrying chimes, bells, gazing balls and wind spinners from over 14 manufacturers, you are guaranteed to find the perfect decorative piece.