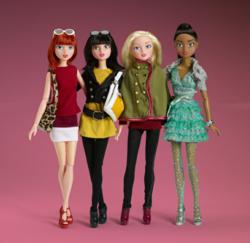 "During the creative process on this project," said Corrao-Reilley. "Given our background it was important to create something that would appeal to both kids and collectors."
Kingston, NY (PRWEB) November 08, 2012
Brainchild of famed doll artist Robert Tonner and Toy Creative Jason Corrao-Reilley, Tonner Toys® is pleased to announce that their latest project, City Girls, will be in stock and shipping as of Friday, November 9th. Available on http://www.tonnerdoll.com, this toy collection is geared toward the beginner fashion doll collector, satisfying kids and collectors alike.
The City Girls Collection features 4 endearing gals: Astor the Fitness Model, Houston the Personal Shopper, Brook-Lynn the Event Planner, and Billy the Bakery Owner. Including a dynamic, motivating back-story, City Girls are freshly matriculated from college and are ready to take on the world and follow their dreams. In addition to her career, each girl has strong community values and a charitable heart. Visit http://www.tonnertoys.com to learn more about these charming ladies!
"What I am really proud of about these dolls is that they are tastefully trendy and fashionable, while maintaining a fresh innocence," said Tonner. "It's a doll you wouldn't mind your little ones aspiring to be some day."
Standing 15.75" tall (16" in heels!), this fierce fashion collection is made with quality materials, including rooted Saran hair on each doll, and consists of deluxe doll Golden Swirl Astor, basic dolls Brook-Lynn and Houston, dressed dolls Taxi! Billy and Color Block Astor, and 3 fashionably sophisticated (read: not sparkly and pink) fashion packs. With these endless options, like the packaging states, if you can dream it, you can BE it®!
First previewed at Toy Fair in early 2012, City Girls hit the ground running. What was only a preview of what's to come from the fledgling toy company quickly became all the rage, and collectors and toy lovers alike began to clamor for dates, prices and details about these lovely ladies.
"During the creative process on this project," said Corrao-Reilley, "given our background it was important to create something that would appeal to both kids and collectors. And in a way that meets our goals of a quality, playable toy line."
The basic dolls are available for $39.99, the dressed dolls $49.99, the Deluxe dressed doll $59.99, and the fashion packs for $24.99. City Girls are available on http://www.tonnerdoll.com just in time for the holidays, so give the gift of play this Christmas, and take home a little bit of the City. Ages 5 & up.
For more information, visit http://www.tonnertoys.com. Tonner Toys: Play, pure and simple®.
About Tonner Toys
Founded in 2005 and headquartered in Kingston, New York, Tonner Toys, Inc. develops and markets mass market toys like the LITTLEMISSMATCHED dolls, CITY GIRLS and MAUDLYNNE MACABRE. Play pure and simple®.