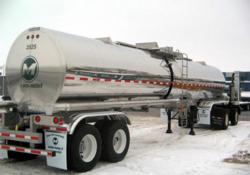 PHILADELPHIA, PA (PRWEB) November 07, 2012
Matlack Leasing is pleased to announce that Mr. Gregory Winters will be taking on the newly created position of Director of Regional Sales and National Accounts. Mr. Winters comes to Matlack Leasing with over 30 years of sales, marketing and management experience in the industrial services and consumer product markets. Specific industry expertise includes chemical transportation and distribution, hazardous waste management, and bulk liquid product management.
Gregory's experience with the tank cleaning industry, his proven dedication to customer relationships (not just closing the deal), and his successful career make him a natural fit for Matlack Leasing. One of his initial assignments will be to assist Matlack Leasing with informing customers of the benefits of the recently acquired DOT 412 rear unloaders and DOT 407 tank trailers.
Matlack Leasing is a premier tank trailer sales and tank trailer leasing company specializing in assisting chemical manufacturers and related industries with transporting hazardous and non-hazardous bulk liquids. We serve national and international operations for United States based companies. If you have any questions, or would like additional leasing information, please call 800-MATLACK (800-628-5225), or email Gregory Winters at gwinters(at)matlackleasing(dot)com.