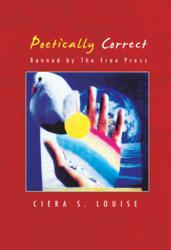 My life has been very sad, but full of adventure. My poetry is like an autobiography of true and incredible things, and my mission is to help more people communicate honestly through writing.
Concord, NH (PRWEB) November 08, 2012
She kept writing. When 14-year-old Ciera S. Louise was banned from writing poetry in her state welfare program, she hid her work in the ceiling tiles. Years later when her controversial work was banned from a newspaper, she published her second book.
Poetically Correct is a "banned" collection of poetry covering a range of personal, intellectual and political topics. Louise uses creative and varied poetic verse as a therapeutic tool for expressing her insights over the past eight years as she processed the emotional, intellectual and political events surrounding her.
With her latest book of poems, Louise hopes to generate awareness of the child welfare system in which she was raised and to inspire other child abuse survivors to find their voice in writing.
For more information about the book and author, visit http://www.cslouise.com.
Poetically Correct: Banned by the Free Press
By Ciera S. Louise
Paperback: $13.96
E-book: $9.99
ISBN: 978-1-4269-7389-5
About the author:
Ciera S. Louise is a poet who has used her life experiences to inspire her passionate writing. She has survived abuse as a Ward of the State and has been diagnosed with Asperger's Syndrome as an adult. She has a strong educational background in English, creative writing, psychology and veterinary studies. She also loves wildlife and has conducted research in this area for most of her adult life as a licensed wildlife technician.