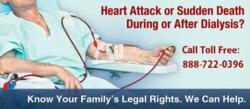 MedRecall News is an on-line community dedicated to keeping you informed about FDA Recalls and Warnings for medications, medical devices, medically induced birth defects and other important health related issues.
Philadelphia, PA (PRWEB) November 07, 2012
Beware of the dialysis danger zone! A popular dialysis treatment has been found to be responsible for an increased risk of sudden death from stroke and cardiac arrest. Med Recall News, the leading free Internet source on defective prescription medication and medical devices, has issued an official consumer alert today and posted free information about the dialysis treatment risk on its website.
"The United States Food and Drug Administration actually issued the most serious class one recall alert for a very common dialysis treatment," said Jesse Levine with MedRecall News. "It caused so many health problems that they actually required the treatment to be pulled from the market."
The common dialysis medication GranuFlo was found to increase bicarbonate levels in the blood, causing a condition called alkalosis. According to the FDA, alkalosis is responsible for the advanced risk of cardiac problems for users of the popular dialysis drug.
In 2011, Fresenius Medical Care (FMC) issued an internal notice to its company-owned clinics, warning of the risks and side effects of GranuFlo. However; they failed to issue warnings to thousands of physicians and clinics not owned by FMC who continued to use their product.
"Dialysis users may be experiencing sudden cardiac problems such as heart injuries, a heart attack, stroke or even cardiac arrest and death," Levine said. "If you or a loved one relies on dialysis treatments for their health needs, it is important to visit our website and get information about the risk."
For the last ten years, MedRecall News has been issuing consumer alerts about deadly drugs and posting the information on its free website. Today's alert for dialysis users can be found online at the MedRecall News portal.
"We really want people to know the risks from using dialysis and how to get more information if they were harmed by using the dialysis treatment," Levine said. "If a user suffered a sudden cardiac problem within 24 hours of a dialysis treatment, they or their loved ones really need to check out our website for critical information."
For more information about the medical risks associated with a very common dialysis treatment, please check out the free information on the Med Recall News website at http://www.MedRecallNews.com or simply call 888-722-0396.
Jesse Levine
MedRecall News
Phone: 888-722-0396