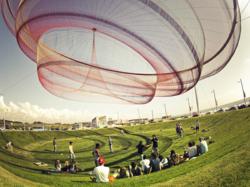 Brookline, MA (PRWEB) November 14, 2012
Studio Echelman today announced news from the Boston Society of Architects that Janet Echelman has been selected as recipient of the 2012 Women In Design Award of Excellence.
Established in 2000, the annual award is presented in recognition of a person who has "designed her own life in design, whose work exemplifies the best of process and practice, and who uses a position of achievement to give back to the world of design and to the community at large."
The award will be presented at a ceremony November 15th, 2012, in Boston at the 2012 Architecture Boston Expo (ABX,) one of the largest events for the design and construction industry in the country, and the largest regional conference and tradeshow.
Echelman is a sculptor who transforms urban spaces worldwide with soaring, building-scale sculptures that fuse with forces of nature: wind, water and light. She is known for combining traditional craft with cutting-edge technology to tap the potential of unlikely materials, from fishing net to atomized water particles.
In 2011-2012, Echelman received the Guggenheim Fellowship and was named a 2012 AD Innovator by Architectural Digest magazine for "challenging received wisdom and conjuring a bold new world". Echelman's TED talk "Taking Imagination Seriously" has been translated into 33 languages and is estimated to have been viewed by more than a million people.
Women in Design Award committee co-chair Caroline Fitzgerald thanked Echelman for "the inspiration she provides to those of us who share her passion," and announced that architect Tamara Roy will also receive the award in 2012. Recipients in previous years include: Rebecca Barnes, Ann Beha, Barbara Boylan, Doris Cole, Valerie Fletcher, Diane Georgopulos, Joan Goody, Susan Harkness, Nancy Jenner, Jennifer Jones, Sheila Kennedy, Andrea Leers, Sharon Matthews, Judith Nitsch, Marion Pressley, Coco Raynes, Adele Santos, Martha Schwartz, Laura Solano, and Maryann Thompson.
For additional information:
Regarding Studio Echelman's sculpture, contact Melissa Henry, melissa(at)echelman(dot)com.
Regarding the Women in Design Award of Excellence, contact the BSA, awards(at)architects(dot)org.
Studio Echelman
Studio Echelman explores the cutting edge of sculpture, public art, and urban transformation. http://www.echelman.com
Follow us on Facebook: https://www.facebook.com/studioechelman
###