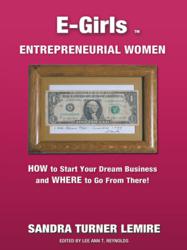 Their goal must be bigger than making money. They must have a drive to see their goal become reality, and it needs to be a true passion in their hearts.
Tucson, Ariz. (PRWEB) November 08, 2012
It wasn't easy, but after years of hard work, Sandra Turner Lemire was able to break into the male-dominated world of manufacturing and other entrepreneurial ventures.
Now, armed with knowledge gained from her lessons and business successes, Lemire has decided to share her path to success with as many other women as possible with her newest book, "E-Girls™" Entrepreneurial Women.
"E-Girls™" Entrepreneurial Women is a helpful guide that assists women who are just getting started in the entrepreneurial world, as well as helping them progress through trials and tribulations. In today's world, women stay single longer, and often outlive their partners. Lemire shows women how they can start building their dream business wherever they are in their life.
"E-Girls™" Entrepreneurial Women carries the message that females need to help each other for the gender as a whole, made up of all generations, to progress.
"I encourage women to reach out to other women, either ahead of them in the journey or following in their footsteps, to reach back and give a helping hand to another woman coming in her shadow who needs an "E-girlfriend's" encouragement to follow her own dream," says Lemire. "I want to help other women find their dreams and make them come true as I did."
For more information, visit: http://www.sandralemire.com/.
"E-Girls™" Entrepreneurial Women
By: Sandra Turner Lemire
ISBN: 978-1-44974-397-0
Paperback: $13.99
About the author
Sandra Turner Lemire is a successful entrepreneur who got her start over 30 years ago selling brown eggs. Since she began her entrepreneurial ventures, she has started nine businesses, including sole proprietorships, four corporations and an LLC. She has been an accomplished manufacturer of premium products sold worldwide for over twenty-five years. She has been published in three books, as well as many magazines. Her newest book is out now.