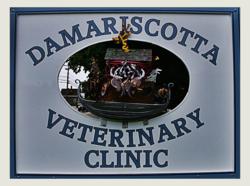 Don't try to burn them out
Damariscotta, ME (PRWEB) November 15, 2012
Damariscotta Veterinary Clinic, a general medical and surgical care clinic for small animals in Damariscotta, Maine, recently offered key advice for pet owners about how to remove ticks from a pet. The clinic recommends that pet owners check their pets for ticks year round because even in the winter months ticks can be a problem.
For removing a tick, Damariscotta Veterinary Clinic recommends using a tick removal tool and discourages the use of tweezers. Owner should not crush, burn or suffocate it, as any one of those actions may spread infectious bacteria. The tick may be disposed of by flushing it down the toilet or if you want the tick identified save it in an air tight container and check with your local veterinarian.
Owners should inspect pets regularly for ticks, especially if they have been outside in areas where there are woods or tall grasses. A thorough combing within 4 to 6 hours of exposure to such environments can help prevent ticks from attaching themselves to feast on your pet. And because deer ticks carry lyme disease, the clinic recommends that owners use tick prevention on their pets all year. Please check with your veterinarian for the best tick prevention products.
In addition to routine health exams and wellness advice, Damariscotta Veterinary Clinic also offers a comprehensive array of medical service for small animals, including dentistry, vaccinations, exotic pet and bird medicine, laser therapy, routine surgeries and more. For complete information about all Damariscotta Veterinary Clinic services, visit their website at http://www.damariscottavet.myvetonline.com or call (207) 563-3934 to schedule an appointment.
About the company:
Damariscotta Veterinary Clinic is a full service veterinarian providing medical, surgical and dental care in a compassionate, caring manner with a personal touch. Damariscotta Veterinary Clinic is a staple in the Mid-Coast Maine area and has been proudly serving residents of Damariscotta for over 50 years. There are many misconceptions on how to best deal with a tick on your animal. For more information, please visit their website at http://www.damariscottavet.myvetonline.com