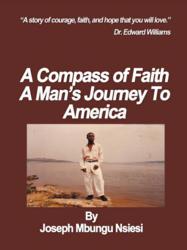 Some people believe that God is not there and that he does not help us get through hard times, but I am walking proof that God does exist and that he is there to help us all. If it were not for my faith in God, I would not have made it to America.
Los Angeles, CA (PRWEB) November 08, 2012
Faith and courage are traits that are not easily found in today's society, especially in the face of extreme adversity and oppression. This realization is what makes Christian and democracy advocate, Joseph Mbungu Nsiesi's journey from poverty and politically charged hate in his native land of The Democratic Republic of Congo to a peaceful and successful life in America so remarkable.
In his memoir, A Compass of Faith: A Man's Journey to America, Nsiesi details his many tumultuous experiences as he battled hunger and poverty and then traveled through Africa fleeing from those who disagreed with his political beliefs. After living in the Congo his entire life, Nsiesi was forced to flee his family and native land due to his support of an opposing political party. Nsiesi went into hiding in different areas throughout Africa until he safely arrived in California.
In the face of death, hunger and disease, he would not give up on his faith, instead he used his faith as his compass to guide him out of the darkness and into the arms of America. Since his arrival in California in 1996, Nsiesi has received a collegiate education to become a registered nurse and he has created a nonprofit organization to help other Congolese in need.
A Compass of Faith: A Man's Journey to America
By: Joseph Mbungu Nsiesi
ISBN: 978-1-44975-235-4
Paperback: $11.99
About the author
Joseph Mbungu Nsiesi is a Christian and democracy advocate who has experienced many hardships throughout his journey to the United States of America. Nsiesi grew up in the Democratic Republic of Congo and he attended school there until 1990. Nsiesi currently lives in Los Angeles with his wife and two daughters. He has used his past experiences as inspiration to create his nonprofit organization, The Nsiesi's Foundation for Disease Prevention in Congo, that helps Congolese who are desperate with diseases and the condition of their country.