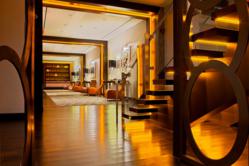 San Diego, CA (PRWEB) November 08, 2012
The holidays will soon be underway, and with them comes a flurry of party planning. Andaz San Diego, home to several of the hottest hotspots in town, recently unwrapped its take on the latest tips and trends in anticipation of the coming season. A-list guests including red-hot royal Prince Harry, screen siren Olivia Wilde and heartthrob crooners Maroon 5 have all made merry at the acclaimed hotel. So, when it comes to planning, Andaz San Diego definitely knows how to party.
"For holiday 2012, we're seeing a move toward more energized, colorful events that have more to offer than the status-quo of traditional décor and ordinary hors d'oeuvres," said Ali Magness, Andaz San Diego's catering manager. "Here at Andaz, we know what it takes to create a decadent and delicious event and make partygoers feel like gliterrati. I'm happy to share a few of our secrets."
Magness noted several ideas for mixing it up this season and making that holiday party a whole lot more interesting:

Décor: Bold jewel tones are all the rage this holiday season, and Andaz San Diego is seeing an influx of brazen plums, teals and ruby reds as accent colors. Hints of gold and silver are also expected to make a comeback as the holidays draw nearer.
Cocktails: Magness suggests mixing freshly spun cotton candy into your holiday cocktail rotation. Cotton candy vodkas are the perfect martini mixer; shake them up and watch this carnival-inspired treat become a holiday hit. Another sweet trend: mix your choice of sorbet into a glass of champagne to add both flavor and color.
Cuisine: This year, opt for variety with more exotic foods, such as duck confit and ceviche, and modern twists on classics. Another must is being mindful of dietary trends and offering gluten-free, vegan and raw options. No meeting or party is complete without fare that everyone can enjoy. Chef De Cuisine Reese Hay is also looking to incorporate fresh herbs picked right from the hotel's new rooftop garden into herb crusted dishes and marinades.
About Andaz San Diego:
Andaz San Diego is an urban escape known for friendly and uncomplicated service, sophisticated design and unpretentious style. Located in the heart of the Gaslamp Quarter, the cornerstone of the property is a 159 room hotel with 17 suites, each with custom fixtures and amenities, flat panel televisions and generously sized glass-enclosed bathrooms. Guests can enjoy complimentary welcome beverages while being checked in via iPads® as well as complimentary amenities such as wireless Internet, local phone calls, and a mini-bar with non-alcoholic beverages and snacks. A center of nightlife, Andaz San Diego offers guests the Ivy Entertainment experience including the Ivy Nightclub, Ivy Wine Bar and Ivy Rooftop, a sultry rooftop bar and lounge with stunning skyline views, pool and private cabanas. Additional amenities include 10,000 square feet of flexible meeting and function space. For more information about Andaz San Diego, visit http://www.andazsandiego.com or call 619-849-1234.
###