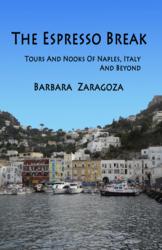 Most Neapolitans set up presepe (also known as crèches, cribs, or nativity scenes) in their homes during Christmas. The presepe are often very elaborate and the pieces are collected little-by-little over many years.
Chula Vista, CA (PRWEB) November 08, 2012
Every year, from November to January, the city of Salerno hosts the "Nights of Lights" where works by famous artists are installed and illuminated around the city. This year, the Salerno mayor has entered into an agreement with Naples that on December 1st they will light up Christmas Alley, a famous street in downtown Naples where artists sell their hand crafted presepe. At the same time, the works of the best presepe artisans will be on display at the Pomona Temple in Salerno. Best of all, the Salerno artist, Mario Carotenuto's "Painted Presepe," will be on display at the Naples cathedral.
For the independent traveler who wants to see the presepe throughout Naples and a little further afield in Salerno, The Espresso Break: Tours and Nooks of Naples, Italy and Beyond provides walking tours of these artistic gems. The book additionally includes other holiday tours, such as La Befana Day on January 6th.
The travel guide doesn't stop at holiday tours. Nine self-guided tours include odious women, an underground tour and even a castle tour. If you're in Naples during the winter, the guide offers a self-guided tour of Pompeii for those who would love to visit the ancient city when there are few tourists to be found. Insider tips include top places to stay, eat, shop and pray.
New York Magazine mentioned Zaragoza's blog, The Espresso Break, as the website for finding hidden gems in the city. Laura Thayer from Ciao Amalfi said, "Barbara Zaragoza has gathered and expanded work from her popular Naples-based blog The Espresso Break into an excellent and very useful guidebook. Zaragoza's unique approach combines an in depth and very accessible historic focus with the intricacies of the Neapolitan culture and, above all, a deep love of bella Napoli."
About
Barbara Zaragoza spent three years blogging about Naples, Italy and writing about off-beat destinations throughout Europe. She has a Master's degree in European history from Harvard University and enjoys exploring local histories, myth, and travel to lesser known destinations. For more about the author, the book, and Naples travel, go to Naples (Napoli) Travel Information Guide.