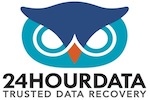 New York, NY (PRWEB) November 07, 2012
When hurricane Sandy ravaged the Northeast coastlines Monday night, October 29, heavy rains, winds up to 85 mph and high tides caused extreme flooding. Thousands of homes and businesses were flooded, leading to the loss of lives and millions of dollars in property damage. Many business owners who regained power and came back to work the next week faced another emergency, the loss of mission critical data due to storm damage.
Superstorm Sandy caused loss of data due to flood damage, as well as from power surges caused by blown transformers and power outages. To support Hurricane Sandy relief efforts, 24 Hour Data is offering a 20 percent discount to businesses and individuals who need data recovery service due to damage caused by the storm.
Tips to Preserve a Flood Damaged Hard Drive
Water damage is harder to repair than other types of damage to hard disk drives, but if action is taken quickly, it is possible to recover data from a water damaged drive. For data lost during Sandy, follow these steps to maximize the odds of a successful recovery.
1 - If a hard drive, RAID drive, smartphone, External USB drive, solid state drive or other data storage media experiences water damage, do not attempt to dry the storage device. Instead, keep it in its current condition.
2 - Seal the hard drive or other device in a plastic ziplock bag.
3 - Data degrades quickly on the platters of water damaged hard drives. Rush your hard disk drive, RAID drive or other storage device to 24 Hour Data as soon as possible to improve your chances of a successful hard drive recovery.
Individuals and businesses in need of emergency data recovery following Sandy can drop off their drive at 90 Park Avenue / New York City, New York 10016 or mail it directly to our certified data recovery facility in Texas: 811 E. Plano Pkwy #124 / Plano, Texas 75074
In the Wake of Sandy, Data Recovery Means a Lot
For families who have lost most of their belongings or maybe even their homes, being able to recover family photo memories and important data can be a significant step toward emotional and financial recovery following a national disaster.
For New York businesses, the successful recovery of mission critical data helps a company get back to normal operations faster, reducing profit loss. Successful disaster recovery could mean the difference between bankruptcy or returning to business following a disaster.
"We are very grateful that our New York-based office suffered no damage during Sandy. We regained power and, just a few days after the storm, were able to open our doors to help residents and business owners with emergency data recovery service," said 24 Hour Data President Sean Wade.
Wade wants to let New Yorkers know that 24 Hour Data is here to help, but data recovery with water-damaged drives is often more difficult than other data recovery processes. "Our data recovery engineers are up to the challenge. Our job is just like a firefighter or a doctor or others stepping up to aid in Sandy recovery efforts. We have a higher calling, if you will. Our 20 percent discount is something we wanted to do to let New Yorkers know we care."
###
About 24 Hour Data - 24 Hour Data, based in Dallas, Texas, is an industry leading data recovery firm specializing in logical and physical recovery of hard disk drives, RAID servers, photos, Macs, flash drives, solid state drives, virtual arrays and more. We understand the personal side of the data recovery business, and offer round-the-clock service and a fast and honest estimate, along with data recovery within 48 hours, in most cases. Go to http://www.24hourdata.com to find out more.