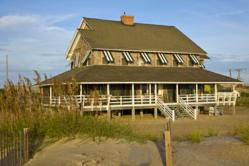 The Buchanan Cottage stands as one of the most photographed and written about oceanfront homes on the Outer Banks
Nags Head, N.C. (PRWEB) November 08, 2012
In local news this week, Bob Oates, president of OBX realty company, Village Realty, announced that the historic Nags Head oceanfront home, known as The Buchanan Cottage, sold to a prominent eastern North Carolina family. The well-known landmark had been in the Buchanan family for 76 years, originally built in 1936 for John Adams Buchanan and his wife Mattie Toms Buchanan of Durham, North Carolina.
The Buchanan Cottage stands as one of the most photographed and written about oceanfront homes on the Outer Banks of North Carolina. Constructed from cypress, juniper and heart pine, the home exemplifies the old Nags Head architectural style, featuring the distinctive L-shape design and wraparound porches.
During his visit to the Lost Colony in 1937, President Franklin Delano Roosevelt dined with the Buchanan family at the house. Since then, generations have grown up enjoying the ocean views and creating lasting memories.
Village Realty could not be more thrilled that the buyer is an eastern North Carolina family who will cherish the historical significance of this grand old home.
About Village Realty
Located on North Carolina's Outer Banks, Village Realty is a locally owned and operated company that specializes in vacation rentals, real estate sales and community association management. Their vacation rentals division has two convenient locations in Nags Head and Corolla. Their real estate division has three offices serving Nags Head, Corolla and Columbia.
In business for over 20 years, Village Realty has maintained the highest standards in customer service, quality accommodations and outstanding representation to their clients and customers. The majority of their properties are located in Nags Head, Kill Devil Hills, Corolla and Columbia.