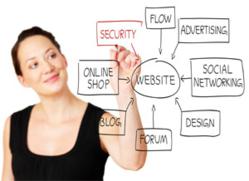 ITX Design and SiteLock provide a qualified team of technical experts that repair any problems resulting from hacks and other security compromises
Baltimore, MD (PRWEB) November 08, 2012
ITX Design announced earlier this week that they would be joining forces with 'SiteLock', an industry leader providing expert business website protection services. SiteLock's services are designed specifically to identify, repair and eliminate security threats. This partnership with ITX Design expands a growing clientele of international small and large businesses.
Founded in 2008, SiteLock serves small and large businesses spread across dozens of international and domestic markets, and manages content-driven websites covering a wide range of audiences. SiteLock is a website security firm that provides cloud-based technology and expert website repair services designed to keep online businesses safe.
Developed by highly trained online security experts, SiteLock's patented 360-Degree scanning system searches for threats, and provides real-time notifications and access to an online dashboard. SiteLock's affordable website security system scours more than 500,000 websites looking for malware, application vulnerabilities and other potential threats that can put online businesses and their customers at risk.
Recently expanding their range of services and capabilities, ITX Design adds SiteLock to their family of partners. CEO Paul Schoolfield remarked, 'We are thrilled to offer SiteLock's arsenal of protection to our growing clientele'.
For small businesses with limited or no onsite technical support or other access to IT resources, ITX Design and SiteLock provide a qualified team of technical experts that repair any problems resulting from hacks and other security compromises.
ITX Design is a leading web host and domain registration provider since 2001 based out of Fredericksburg, Virginia. For over a decade, they have offered dedicated servers, shared web hosting, and domain registration for small and large businesses including server hosting, Word Press hosting, reseller hosting and much more. ITX Design offers a multitude of web hosting solutions at the lowest prices and highest speeds.
The ITX Design partnership with SiteLock brings both companies to the forefront of web development services adding sophisticated malware detection and remediation, in addition to customizable security packages and full service reputation management. Both companies are committed to keeping businesses running safely in a dangerous online environment.
For more information, contact ITX Design at 1-866-577-1442, or simply visit http://www.itxdesign.com