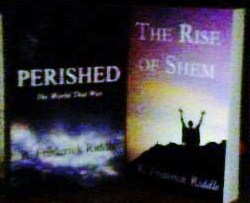 "People need flexibility in their budgets. By reducing my prices so extensively, I have given them that flexibility."
Port Charlotte, FL (PRWEB) November 08, 2012
Christian Fiction author R Frederick Riddle has the Christmas spirit early this year. Asked why he offering such deep discounts of 33% and 40%, he responded:
"I have several reasons. First, the R Frederick Riddle Store website has always discounted my books. I think that people like to get good things for low prices. I know I do. That is one reason that my prices are always below retail.
"My second reason is I wanted to do something special this year. So I slashed my prices! Now potential buyers can purchase a book or books without breaking their bank. In addition, they can get their books as Christmas gifts before the Christmas crunch starts.
"Third, it is part of an overall marketing plan to reduce prices. We are in a tight economy. People need flexibility in their budgets. By reducing my prices so extensively, I have given them that flexibility. When prices go back up in January, they will not return to their previous levels. Although higher than Christmas Sale prices, they will still be significantly lower than before."
Mr. Riddle has now authored four books, two of which he sells on his website, and is currently working on two more. His classic Perished: The World That Was is a novel faithful to the Biblical accounts with added drama and depth that reviewers have hailed as bringing the characters alive. Normally retailing for $29.95, it now will sell for only $15.95.
The sequel is The Rise of Shem, which follows Noah's second son, Shem, as he records history in the making from Mt. Ararat to Bable to Egypt to Libya. Like Perished, its price has been cut to $15.95.
But the real savings has been his store's exclusive sale of the books as a set. Slashing the price by 40%, he has made this a tremendous gift for any adult (18 and above) for Christmas. He says that you can literally buy the set for the retail cost of one book at #29.95.
About Riddle's Store: The R Frederick Riddle Store exists to promote and sell Mr. Riddle's books. Although his books are available elsewhere (Amazon.com, BarnesandNoble.com, and more), it is only through his store that each book is autographed and shipped free.
R. Frederick Riddle is a Christian Fiction author, host of The R. Frederick Riddle Show on blog talk radio, editor and founder of Point of View newsletter, and host of his own blog.