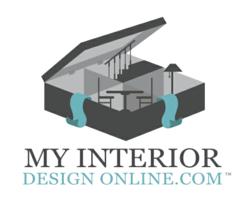 Chicago, IL (PRWEB) November 07, 2012
My Interior Design Online.com, an online service that provides users with an affordable, custom interior design solution, today announced the national availability of its offering: a complete, high-end and tailored design plan at a fraction of the cost of a typical engagement with a professional interior designer.
Developed by award-winning interior designer Maria Hildebrand, My Interior Design Online.com is unlike all other one-size-fits-all web-based design solutions. Not only are its clients offered an in-depth process for gathering information about their design projects through the website, but they then receive a comprehensive room plan in a matter of weeks that is packaged in a neatly-wrapped box and containing a custom floor plan, furniture selections, color and fabric selections, and a personalized shopping guide.
"People have told me for years that they wished they could afford to hire me," said Maria Hildebrand, founder and CEO. "I took that feedback to heart, and incorporated all of the key steps I take with my clients into a simple 4-step process at My Interior Design Online.com. This interactive process provides users of My Interior Design Online.com with a true custom design plan that they can then follow as their schedule and budget allow."
The detailed plan included in a My Interior Design Online.com box, which arrives inside a beautifully presented box just a few weeks after creating a design project on the website, will efficiently lead home owners through the numerous planning decisions and selections that go along with creating an amazing custom room.
"It's been very planned, methodical and organized. I haven't had any surprises with Maria," says Leslie Bleke, who worked with Hildebrand in 2011. "I would have no hesitations to work with her. It was the best investment I ever made in my home."
This unique service by My Interior Design Online.com was created specifically for the do-it-yourselfer who wants a beautiful, custom room while also satisfying the desire to be an active part of the implementation process. Each user of My Interior Design Online.com receives an economical solution that also is aligned with that individual's vision for a dream room.
"Maria is a great listener. My thoughts combined with her design background and innovative ideas pull the whole home together. She wants you to like the end product because she knows it is a reflection of you and your home," says Lori Chevalier, who hired Hildebrand in 2010.
It's All About the Box – A Look Inside
Each room design includes: floor plans to scale, elevation drawings, furniture selections, fabric swatches, paint samples, accessory suggestions, and detailed information on purchasing all of the items, plus up to five emails with the design team for the purpose of answering questions you have along the way. In addition, each My Interior Design Online.com box comes with a conveniently-sized book that contains swatches and design notes that is small enough to take along with you as you shop.
"People enjoy opening packages, and so it made perfect sense for us to package our design plan in a gift box," said Hildebrand. "The My Interior Design Online.com box also doubles as a single location to house all details about the design project."
Hildebrand's 15+ years in professional, high-end home design has allowed her to transform her clients' living spaces through interior design, staging, remodeling, and even custom home building to achieve everything from a festive decorating scheme for the holidays to a complete renovation and high-end custom home design. She invested nearly two years developing My Interior Design Online.com to ensure that its users receive the same trained eye and expert guidance as they create a design project through the website.
Hildebrand's exceptional work has earned her recognition as a three-time recipient of Naperville Magazine's Best Interior Designer. Her professional work has been featured in Naperville Magazine, West Suburban Living (cover photo), and Midwest Home Magazine. It has also been featured in luxury homes tours and model homes, such as the Designer Luxury Home Tour – Saint Charles, IL. With projects ranging from kitchen and bath remodels to million dollar custom built homes, Hildebrand has a natural talent for design and thoughtfulness to planning on a budget.
Facebook Contest Accompanies Launch Activities
As part of the company's launch, My Interior Design Online.com is launching a Treasure Hunt on Facebook. The My Interior Design Online.com Facebook Treasure Hunt allows participants to compete for a chance to win a free My Interior Design Online.com room design. Each week between November 5 and December 7, at least one question will be posted on the company's Facebook page.
Participants in the Treasure Hunt will search for clues and answers on My Interior Design Online.com. The person that answers the most questions correctly will automatically be named winner. If there is a tie, then a winner will be randomly drawn from among those that have answered the most questions correctly, and this person will get a complimentary custom room design plan (AKA, "The Box") valued at $1,000.
The custom room design plan, AKA "The Box", will be delivered to the winner's door complete with everything needed to execute a custom, high-end design and build a dream bedroom.
About My Interior Design Online.com
My Interior Design Online provides a custom, high-end design plan for a fraction of the cost of hiring an interior designer. "The Box" provides customers with the resources and flexibility to execute a full design plan on their own time and budget. Learn more at http://www.myinteriordesignonline.com/.