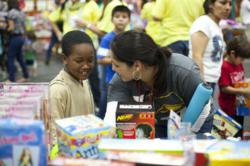 "The event brings together community partners and volunteers working toward a common cause..."
San Diego, Calif. (PRWEB) November 08, 2012
Over 12,000 people are expected to attend the Annual Toys for Joy event at Abraham Lincoln High School on Saturday, December 8 from 9 a.m. to 2 p.m.
Sixteen years in the running, families start lining up before the sun rises for an opportunity to pick up toys, clothing and groceries for the holidays. Now more than ever, Toys For Joy has become a tradition that San Diego families count on every December, meeting the needs of thousands.
Toys for Joy is more than just a toy. Not only will children ages 0 - 11 receive a free toy but families will have the opportunity to receive free lunch, clothing, groceries and entertainment. Many volunteers, sponsors, and community partners work together to spread pervasive hope through this significant event.
"There's some kids that will not get a toy this Christmas, Toys For Joy means a lot for a parent who might not have a job or is unemployed," said Council President Tony Young.
Toys for Joy began more than a decade ago, in partnership with Victory Outreach Church in San Diego. At that time, the Rock Church did not exist and it was Miles Ahead Ministry that spearheaded the event.
"We started this event four years before we started the church, this event is one of my favorites because you see people who have a great need. For 15 years, we saw a need in the community for basic things like toys and Christmas gifts...so many people came out and acted so generous, it was a no brainer," said McPherson.
Now, the event has grown to toys, food, clothing, and more. Last year alone, 2,000 volunteers helped to distribute almost 8,000 toys, over 130,000 articles of clothing, and 12,000 bags of groceries. This year, Toys for Joy hopes to do the same. In addition to the expected 10,000 toys, 80,000 pounds of food and 200,000 articles of clothing that will be distributed to families in need, there will also be free lunch, clothing, groceries, and live entertainment including JR Crew, a children's fun zone and more. This event is free and open to the community.
To make a difference in the life of a child this Christmas, there are three ways to be part of Toys For Joy:
Volunteer. Sign up to volunteer with family and friends at toys-for-joy.org/volunteers
Give. Purchase a toy from the online wish list at toys-for-joy.org/toys
Partner. Monetary and/or in-kind gifts can be contributed online at toys-for-joy.org/donate
Toys For Joy would not be possible without the generosity of monetary gifts and/or donations.
"We are honored to partner with Toys for Joy once again this year to help underprivileged families in San Diego during the Christmas season," commented Susan Briggs, Executive Director, San Diego Half Marathon, "The event brings together community partners and volunteers working toward a common cause, which aligns exactly with our mission to promote community service initiatives and catalyze volunteerism as a way of transforming lives."
Platinum Sponsors include: Alliant International University, The Burger Joint, The Corky McMillin Companies, Curiocity, iTan, JR Crew, Mattel Toy Store, Operacaffe Mobile, Rockpile Bookstore, Rock Thrift Store, Sage Tree Solutions, San Diego 6, San Diego Chargers, San Diego Half Marathon, San Diego Padres, and Sweet Treats.
MORE:
WHAT: Toys for Joy is one of San Diego's largest and longest running community outreach events. Now in its 16th year, it was originated by Pastor Miles McPherson of the Rock Church. Last year, the Rock Church donated 235,000 volunteer hours internationally, with an estimated value of $11.2 million* with 228,765 hours of these hours given directly to the City of San Diego, saving the city over $4 million.
WHY: A united act of compassion designed to meet the basic physical and spiritual needs of community residents.
WHO: The Rock is partnering with local businesses, churches and community agencies. Approximately 2500 volunteers will be on hand to help unload the Toys for Joy trucks, distribute food, toys, and clothing.
The event is open to the community.
WHEN: Saturday, December 8, 2012
9 AM - 2PM
WHERE: Abraham Lincoln High School
4777 Imperial Avenue
San Diego, CA 92113
*(Media Entrance: ALHS Administration Building off Imperial Ave)
MEDIA OPPORTUNITIES:
Interview opportunities with:
Miles McPherson, Rock Church Senior Pastor and founder of Toys for Joy.
Lillie McMillan, Porter Elementary School Principal
San Diego county leaders
Visuals of thousands of local residents receiving toys, lunch, free groceries, clothing, etc.
In community partnership with City of San Diego Special Events, San Diego Police Department, Lincoln High School, Porter Elementary School, Park & Recreation Centers and Urban Corps. Over 20 sponsors from all areas of San Diego will be represented.
ABOUT TOYS FOR JOY
Toys for Joy was founded by Pastor Miles McPherson of the Rock Church in 1996 to partner with local churches and community businesses and serve Southeastern San Diego. For the past 16 years, Toys for Joy has impacted thousands of lives through volunteers that provide toys, clothing, and food, in addition to health and community services. For more information, visit http://www.toys-for-joy.org.
Pictures are also available online: http://bit.ly/spG3Fs.
Overview video from Toys For Joy 2011: http://bit.ly/S9oJfr
ABOUT THE ROCK
The Rock is San Diego's largest church and the 4th largest church in the Southern California according to Outreach Magazine's 2012 "100 Largest Churches in America" report. It was started in 2000 by Pastor Miles McPherson, a former NFL player. Over 12,300 people attend the Rock's five Sunday services.
For more information go to http://www.sdrock.com
Follow us on Twitter (@therocksandiego) and Facebook (The Rock San Diego)