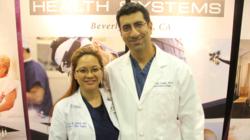 Our goal behind the 'Talk to the Doctor' booth was to let people ask us real questions. In that regard, this event was a success.
Beverly Hills, CA (PRWEB) November 08, 2012
La Peer Health Systems spent the weekend at the Ultimate Women's Expo and hosted an exhibitor booth at the two-day event. Six specialists from our world-class facility attended and answered medical questions for attendees.
The goal for the weekend was to have attendees ask the doctors general medical questions as well as learn about La Peer. With six doctors attending the conference, attendees were able to talk directly to a specialist over a range of medical specialties, including: Gynecology, Gastroenterology, Plastic Surgery, and Colorectal and Hepatology.
"As a woman, I was very excited to attend this conference and connect with the attendees," says Liza M. Capiendo, MD, a Beverly Hills colorectal surgeon. "I think that this was an excellent platform to meet new people in a social setting."
La Peer physicians split their time at the booth, with three attending Saturday and three attending Sunday. Attendees were encouraged to check out the booth by participating in some games.
"We've come up with a lot of fun ways to involve the conference attendees, such as our La Peer Spinning Wheel," says Dr. Carlo Honrado, a board certified facial plastic and reconstructive surgeon. "A person can visit the booth, spin the wheel and test his or her medical knowledge, along with the chance to win excellent prizes."
The La Peer physicians enjoyed speaking with a range of individuals, including some that might not necessarily end up in their practice. At the end of the day, they enjoyed helping people at the expo.
"Our goal behind the 'Talk to the Doctor' booth was to let people ask us real questions," says Siamak Tabib, MD, MA, board certified in Gastroenterology & Hepatology. "In that regard, this event was a success."
The Ultimate Women's Expo is a national conference that has traveled around the country. The conference boasts several impressive sponsors including but not limited to Bloomingdale's, Starbucks and Barnes and Noble. The conference features a number of different speakers, seminars, classes and entertaining activities that are geared towards educating women about the resources that are around them.
La Peer Health Systems focuses on excellence in patient care and offers the most advanced and contemporary treatments and equipment that the medical world has access to. With 42 doctors across 13 departments, from anesthesiology to urology, La Peer offers comprehensive and widespread medical treatments for all patients. More information about La Peer Health Systems can be found at http://www.LaPeerHealth.com.