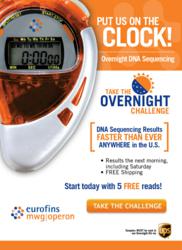 "The combination of innovative logistics and Eurofins MWG Operon's new state-of-the-art facility increases both our daily DNA sequencing capacity and the speed that we are able to provide high quality results to the entire US without limitations."
Huntsville, AL (PRWEB) November 08, 2012
Eurofins MWG Operon, Inc. has revolutionized the DNA sequencing service industry by removing all geographic limitations and upcharges for overnight DNA sequencing services across the US. All research and commercial laboratories, no matter their location, have access to the new overnight service. Customers send their samples free of charge via UPS using Eurofins MWG Operon's new Overnight Kit. DNA sequencing results are delivered the next morning, allowing researchers everywhere within the US to plan the next stages of their experiments without delay.
"Strong growth in our DNA sequencing facilities, combined with the quality and processes we established, has highlighted the demand for an even faster service throughout the entire USA," stated Martin Kunz, CEO of Eurofins MWG Operon. "Through careful planning and implementation of strategic partnerships, Eurofins MWG Operon can take the lead as the premier provider for DNA sequencing with amazing speed. The combination of innovative logistics and Eurofins MWG Operon's new state-of-the-art facility increases both our daily DNA sequencing capacity and the speed that we are able to provide high quality results to the entire US without limitations."
The location of the new Eurofins MWG Operon facility allows expedited delivery of overnight shipments to the DNA sequencing laboratory. "Setting up our new expanded facility at this location allows us to combine two business models into one. We have all the advantage of hub-like scalability, automation, barcoded processes and unique standards for data release controlled by processes under ISO 9001/13485, and we offer the same advantages of small satellite labs in terms of speed. It will allow faster delivery times for every DNA sequencing order," explained Helaman Escobar, VP of Services for Eurofins MWG Operon. "Our consistent focus on quality ensures the highest level of service for DNA sequencing results."
Visit http://www.operon.com/overnight for more information about overnight DNA sequencing services.
About Eurofins MWG Operon
Eurofins MWG Operon, a member of the Eurofins Group with major offices and production facilities in the United States, Europe, and Asia, is an international provider of DNA sequencing services, DNA synthesis products, and bioinformatics services for academic and industrial research. The company's strengths are its strong customer orientation, fast service, and high quality. For additional information, please visit our website at: operon.com.