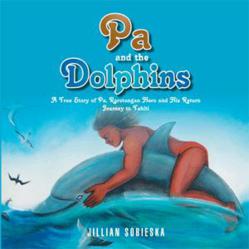 RAROTONGA, Cook Islands (PRWEB) November 07, 2012
ill Sobieska and her new volume in children's literature, Pa and the Dolphins, are deeply imbued with the mana (Tahitian for power) of the doughty Polynesian race, the hardy sea people who live (and dream) in the middle of the great Pacific. Pa, who can trace his ancestry back to sixty-four generations, is undertaking a marathon swim from Moorea to Tahiti, across Te Toparoa Miti (Sea of the Moon).
His father has told him the story of how their people sailed from Avaiki, (mother earth) which people know as Tahiti, to Rarotonga in double-hulled canoes called vakas. Doing the swimming marathon meant a homecoming for Pa because Tahiti is where Pa's heart and roots are although it had been many generations since his people had lived there.
The night before the race, Pa sleeps deeply and dreamlessly with the perfume of the beloved Tiare Maori flowers in the air. He wakes up to a morning of good omen and therefore takes a memory stone to the place where well-wishers were gathered. He is going to carry the large stone in swimming to Tahiti and challenged anyone to take it back to Moorea on the same spot. This is an old Polynesian custom. Islanders, a French vessel full of tourists and a helicopter with a television crew are there to watch Pa make the distance through the Sea of the Moon.
Lithe and strong, Pa enters the water and becomes a creature of the ocean. His ancestors believe that sympathetic sea creatures are telepathically attuned to humans. This meant that ancestral spirits have returned in the form of sea birds and fish to watch over the people. And so it does in Pa's case: a big shark suddenly comes up from the bottom and was about to bite him when out of nowhere a hundred dolphins streak like silver bullets to attack the shark and hunt it down into the bottom of the deep.
Pa swims into Papeete harbor where a happier drama awaits. He is welcomed as a true son of Polynesia. It is a grand welcome for a hero. Pa's stone remains on Tahiti to this day and the people of French Polynesia still remember Pa's epic swim through the Sea of the Moon.
For more information on this book, log on to http://www.Xlibris.co.nz.
Pa and the Dolphins * by Jill Sobieska
A True Story of Pa, Rarotongan Hero and His Return Journey to Tahiti
Publication Date: August 08, 2012
Picture Book; NZ$44.99; 54 pages; 978-1-4653-5910-0
Picture Book Hardcover; NZ$64.99; 54 pages; 978-1-4653-5911-7
Members of the media who wish to review this book may request a complimentary paperback copy by contacting the publisher at 0800-891-366. To purchase copies of the book for resale, please fax Xlibris at (09) 353-1455 or call 0800-891-366.
For more information, contact Xlibris at 0800-891-366 or on the web at http://www.Xlibris.co.nz.