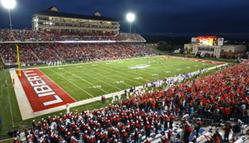 Lynchburg, Va. (PRWEB) November 06, 2012
Liberty University Athletics will be running several promotional campaigns to fill Williams Stadium (#FillTheBill) for its final regular season home game against No. 6/8 Stony Brook on Saturday afternoon. Kickoff is set for 3:30 p.m. for the clash between the Big South's top two football programs.
Liberty's potential record-breaking crowd will aid in the efforts to assist victims of last week's devastating Hurricane Sandy in the Northeast. Included in the areas hit by the storm is Stony Brook, N.Y., where Stony Brook University is located on Long Island.
Liberty Athletics will donate $1 for every fan in attendance at the game, with the donated funds going to Gleaning for the World, a non-profit organization based in Central Virginia. The largest challenge facing the charitable group is getting the necessary funding to transport the supplies it has already gathered to the areas affected by the storm.
Liberty is one of the top drawing FCS programs in the country, ranking No. 9 nationally in total home attendance (83,491) and No. 12 in average home attendance (16,698).
The Flames are on pace to break their all-time single-season attendance record (98,515 set in 2011). Liberty needs 16,510 to pass through the gates on Saturday to reach 100,000 in total home attendance for the first time in program history.
Below is a complete list of the various promotional efforts and ways to purchase discounted tickets for a game that will determine the outcome of the 2012 Big South Conference title race.
Liberty has won four out of the last five Big South Conference championship (2007, 2008, 2009 and 2010), with Stony Brook claiming the title in 2011.
For more information about purchasing tickets for the game, please contact the Flames Ticket Office at (434) 582-SEAT (7328) or visit the Flames Ticket Office Website.
Liberty University, located in Lynchburg, Va., is the world's largest Christian university. Nearly 100,000 students attend classes on its 6,800-acre residential campus and study in its thriving online education program.
Athletics has been an integral part of Liberty University's vision from the beginning. Starting with a single athletics team, Liberty now has a full-fledged NCAA Division I program that is 20 teams strong, a Club Sports program with 31 teams, and a growing Intramural program.