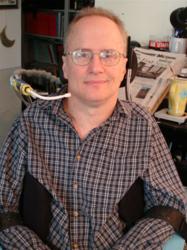 "This is the first assisted suicide campaign in which the disability rights perspective has reached so many people."
Boston, MA (PRWEB) November 07, 2012
Massachusetts disability rights activists from the group Second Thoughts breathed a sigh of relief Tuesday night as voters defeated Question 2, which would have legalized assisted suicide in the state. Members had gathered at Boston's Littlest Bar to await the election results. According to the Boston Globe, with 51 percent opposing the initiative and 93 percent of the vote counted, proponents of the measure conceded defeat.
"We changed the nature of the campaign," said John Kelly, Director of Second Thoughts. "This is the first assisted suicide campaign in which the disability rights perspective has reached so many people." Kelly, a power wheelchair user since a spinal cord injury in 1984, became a leading spokesperson for the opposition. He debated half a dozen different proponents across the state, squaring off against lead advocate Dr. Marcia Angell three times. Two of those debates are archived on WBUR.
Over the last six weeks of the campaign, support for Question 2 plunged from a high of 68% to a steady 49% throughout last night. "Simply put, Massachusetts had second thoughts, " Kelly said.
Second Thoughts was formed in December 2011 by Massachusetts disability rights activists, and brought a progressive perspective to a debate so often portrayed as part of the culture war between secular liberals and religious conservatives. The group burnished its progressive credentials, for example, by producing a bumper sticker calling for "Yes on 3/No on 2," because medical marijuana is also a disability rights issue.
"Assisted suicide proponents tried to paint all opposition as religious and extreme," said Denise Karuth, Second Thoughts spokesperson for Western Massachusetts. "But progressives changed their minds when they heard, for example that no independent witness was required when the drugs are taken. It's a recipe for elder abuse."
"We fight for social justice," said Eileen Feldman of the Second Thoughts steering committee. "Besides unreliable safeguards, Question 2 stigmatizes conditions that are a normal part of living as disabled for many people. Physical incapacity or incontinence does not take away your dignity."
The national disability group Not Dead Yet served on the Second Thoughts steering committee. "We applaud the articulate leadership that Second Thoughts provided in efforts to clarify the dangers in the initiative," said Diane Coleman, Not Dead Yet's President and CEO.
Second Thoughts now hopes to capitalize on its media exposure by continuing its advocacy on life-and-death healthcare issues, which impact people with disabilities across the age spectrum.
"Question 2 galvanized our community," said Kelly. "We live on the front lines of our health care system, and our knowledge and experience can improve the system and make it more responsive to people faced with serious chronic and terminal illnesses."
#