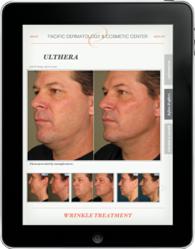 I knew with the invention of the tablet computer, there was a way to digitize the look book, creating a platform that was beneficial to not only me and my patients, but other doctors as well."
Seattle, WA (PRWEB) November 07, 2012
Physicians with the most successful cosmetic medical practices possess hard-earned degrees and are experts in their practice, but showcasing their work is a challenge. Many cosmetic health practitioners are accustomed to presenting new patients with a cumbersome, heavy book filled with before-and-after photos of their work, information about procedures, and the extensive qualifications of their staff. The days of this dated book are gone with today's launch of folioMD, an iPad application created to properly market your cosmetic medical practice through a sleek, modern platform.
folioMD (http://www.foliomd.net) enhances in-office consultations by presenting the most up-to-date information in an elegant, interactive format. Additionally, patients are able to download the practices customized folioMD app to their own device before any visit to the office. This allows them to learn about the doctor's expertise and services in advance and increases the likelihood that they'll schedule a consultation.
folioMD was created by Dr. Jennifer Reichel, a successful cosmetic dermatologist based in Seattle, to solve the dilemma of the static, out-of-date look books. folioMD is immersive and interactive, allowing people who are seriously considering a procedure to make a decision about working with you by simply exploring the app through its user-friendly design. Any procedure can be highlighted, educating patients on the proper questions to ask while personalizing and polishing your office consultations. It is designed specifically for doctors practicing in the certified fields of Occulo Plastic Surgery, Plastic Surgery, Facial Plastic Surgery, Dermatologic Surgery and Surgical/Cosmetic Dermatology.
"The idea for folioMD came to me in 2007 – I saw a need for a state-of-the art cosmetic portfolio," says Dr. Reichel. "My designer and I spent 2 years developing the copy, putting together the images of my credentials, certificates, before-and-after images, along with a list and description of essential procedures to include. Finally, we designed a beautiful metallic cover with branded images. Within months, I realized that it was impossible to keep these books current, and my look book was already outdated. I knew with the invention of the tablet computer, there was a way to digitize the look book, creating a platform that was beneficial to not only me and my patients, but other doctors as well."
If your practice is new or you don't have a look book complete with before and after images, folioMD will help your practice create one as you add new procedures, acquire more images, and become more advanced in your techniques. The app provides a great starting point to begin marketing the strengths of your practice, while you expand your offerings and grow.
Currently, folioMD is available only for the Apple iPad and can be purchased for an upfront cost, along with subscription and maintenance fees for updates.
About Dr. Jennifer Reichel, creator of folioMD
Dr. Jennifer Reichel is the founder and director of Pacific Dermatology & Cosmetic Center. She is a board certified dermatologist. Dr. Reichel attended the University of Colorado for both her undergraduate degree and her doctorate of Medicine. She received her Bachelor of Arts in Molecular & Developmental Biology in 1993 and completed medical school in 1998. She then underwent residency training in Dermatology at the University of Washington, followed by a postgraduate fellowship in Mohs micrographic skin cancer surgery and cosmetic surgery.
She is currently a faculty member of dermatologic surgery at the University of Washington, and continues to teach residents and perform surgery at the Veterans' Affairs Puget Sound Heath Care System Hospital. Dr. Reichel is active on a national level and is a regular speaker at skin surgery meetings.
Dr. Reichel is a fellow of the American Academy of Dermatology (AAD), the American Society for Dermatologic Surgery (ASDS), The American College of Mohs Surgery (ACMS), the American Society for Laser Medicine and Surgery (ASLMS) the Women's Dermatologic Society (WDS), and the Seattle and Washington Dermatologic Societies.
###