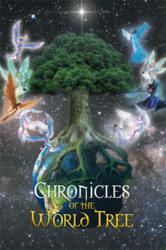 CHRISTCHURCH, New Zealand (PRWEB) November 07, 2012
The Old Order was deemed to have run its course in the year 2025. The new category of Homo Luminous came into being after the "Great Turning," which found mankind shaking off its animal predilections to achieve its angelic potential. The nature of this change was brought about via the workings of the World Tree or axis mundi, the centric energy source and life force of the planet which directly influences action in the bio-field. Too great and complex a being for any human mind to contemplate, author Patricia Anne Dye, in Chronicles of the World Tree (a brilliantly conceived work of literature that has at its core cosmology and naturalist philosophy) presents what she can of this entity via the studies of seer-poet Philo 18.
Patricia Dye trumps even the gnomic genius of Stanislaw Lem (His Master's Voice, The Star Diaries) with her creative distillate of the aforementioned academic disciplines. The World Tree employs vast numbers of elementals whose categories mankind has only began to make sense of. These include devas and angels, sonic manifestations of energy which populate mankind's waking moments and registers in its dreams. The Tree works under the directions of a much greater power called the Great Star, which in turn is beholden to an even greater force.
Just before the greatest paradigm shift known to mankind, these forces and their enlightened ploys were instrumental in monitoring the transition of the entire earth and its walking denizens from darkness to light. The various categories, entities, energies, and spiritual fluxes that make up Creation are well studied by Philo 18 in this book. The macrocosm is therefore translated into the human microcosm as best as can be done for all enlightened readers out there. For all those whose views need assistance for the paradigm shift into Dye's Bright New World, this work is a must read. It represents the best of vatic writing, helping shape futurity for the sake of humanity.
For more information on this book, log on to http://www.Xlibris.co.nz.
Chronicles of the World Tree * by Patricia Anne Dye
Publication Date: September 30, 2012
Trade Paperback; $34.99; 250 pages; 978-1-4771-0742-3
Trade Hardback; $54.99; 250 pages; 978-1-4771-0743-0
Members of the media who wish to review this book may request a complimentary paperback copy by contacting the publisher at 0800-891-366. To purchase copies of the book for resale, please fax Xlibris at (09) 353-1455 or call 0800-891-366.
For more information, contact Xlibris at 0800-891-366 or on the web at http://www.Xlibris.co.nz.