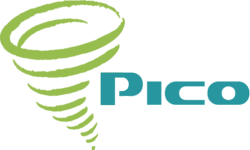 Seattle, WA (PRWEB) November 07, 2012
Pico Computing, the leader in high-performance FPGA solutions, announced today that it will be offering new parallel processor IP for its FPGA boards. The first application of this technology in the area is in the area of Bioinformatics will be on display at Supercomputing '12 in Salt Lake City, November 12-15.
The IP is based on the Knowledge Processing Unit (KPU) developed by Stillwater Supercomputing, Inc. The Stillwater KPU is the industry's first distributed data flow processor. The IP enables application developers to rapidly integrate high performance parallel computing features in their design. The KPU IP can take advantage of multiple Pico boards to create scalable supercomputing systems optimized for any workload.
Pico Computing will demonstrate the technology in its booth at Supercomputing '12 in Salt Lake City. On display will be a Pico board-based Bioinformatics solution executing a genome assembler, jointly created by Pico Computing, Dr. Manoj Samanta (Principal at Systemix Institute of Redmond) and Dr. Theodore Omtzigt (Principal at Stillwater. Dr. Omtzigt) will be available to answer any of your questions at Supercomputing '12.
In addition to accelerating the design of parallel FPGA-based platforms, the IP also dramatically simplifies the firmware update process for high-performance FPGA systems. The KPU is a software controlled processor, and thus bug fixes and performance improvements are reduced to simple software updates and do not require new bit streams. This is particularly important for the new generation of Xilinx and Altera FPGAs where bit stream generation can take several hours. With the new parallel processing IP, this update process is reduced to seconds.
About Pico Computing
Based in Seattle, Washington, Pico Computing specializes in highly integrated development and deployment platforms based on Field Programmable Gate Array (FPGA) technologies. Applications for Pico Computing technologies include cryptography, networking, signal processing, bioinformatics, and scientific computing. Pico Computing products are used in embedded systems as well as in military, national security and high performance computing applications. For more information about Pico products and services, visit http://www.picocomputing.com.
About Stillwater Supercomputing, Inc.
Stillwater Supercomputing, Inc. was founded in 2006 and Incorporated in 2007 to develop the next generation platform for computational science and engineering. Focused on improving the efficiency of execution, the Stillwater Knowledge Processing (KPU) framework is facilitating the creation of best-in-class intelligent systems for high-performance embedded and autonomous systems, to large-scale cloud-based systems for bioinformatics, science, and engineering. For more information about Stillwater products and services, visit http://www.stillwater-sc.com, or contact info@stillwater-sc.com.
About Systemix Institute
Based in Redmond, Washington, Systemix Institute Inc. specialized in developing bioinformatics applications and providing services. Systemix solutions are highly scalable to properly address big-data problems inherent in next-generation sequencing technologies. For more information about Systemix products and services, visit http://www.systemix.org, or contact info@systemix.org
About SC12
For 24 years, SC has been at the forefront in gathering the best and brightest minds in supercomputing together, with our unparalleled technical papers, tutorials, posters and speakers. SC12 will take a major step forward not only in supercomputing, but in super-conferencing, with everything designed to make the 2012 conference the most 'you' friendly conference in the world. We're streamlining conference information and moving to a virtually real-time method of determining technical program thrusts. No more pre-determined technical themes picked far in advance. Through social media, data mining, and active polling, we'll see which technical interests and issues emerge throughout the year, and focus on the ones that interest you the most.